Over the past year I've probably gotten more requests from readers to see photos of Kourtney Kardashian's house than any other celebrity's. A real estate birdie told me it just hit the market in Calabasas, so let's take a look!

Kourtney Kardashian's House in Calabasas:
The listing says: "East Coast traditional view estate within the prestigious guard-gated Oaks of Calabasas. Dramatically re-imagined by celebrity interior designer Jeff Andrews."
Redfin reports: "She and Scott Disick purchased the four bedroom, five bath home in 2010 for $1.7 million. It's located in The Oaks area of Calabasas, a little over a mile away from Justin Bieber's house where the Biebs was recently accused of egging his neighbor's home." (Anyone else thinking that might be one of the reasons she's moving? 😉 )
Kourtney just finished decorating it with designer Jeff Andrews last fall: "It was definitely a collaboration between Jeff and I. I am really hands-on and really a perfectionist — especially when it comes to interior design — so I was 100% involved."
Kourtney told Domaine, "When we first started decorating, I wanted all white walls and for everything to be really simple. Then I started saying, 'I'm too young. This is my first house: I want to have fun!"
Scott Disick describes the home that he and Kourtney Kardashian share with their kids Mason and Penelope as "Alice in Wonderland meets Beetlejuice." I can see that, can't you?
The master bedroom has a signature "Love Me" neon wall sculpture by Curtis Kulig:
The house has 4 bedrooms, 4.5 baths, and 5,400 square feet.
Kourtney says the main reason they're moving is to get more bedrooms for their growing family.
"The gourmet kitchen is equipped with all Wolf appliances, 4 dishwasher drawers,
cappuccino maker and opens up to the spacious breakfast area and family room."
A reader named Kim found photos of what the house looked like when they bought it.
Here's how it looked before:
It's on the market for $3.499 million. For more photos and information: the listing, Domaine, and InStyle.
Update: It sold for $2.975 million.
The "Keeping Up with the Kardashians" House
was filmed is on the market for $6.25 million:
According to Redfin:
As TMZ reveals, the K family didn't really live in the Los Angeles seven-bedroom, eight-bathroom estate. In fact, they actually live 20 miles from the home that was the façade for their TV home. TMZ reports that Kris Jenner didn't want to  show the outside of their real home for security reasons. When the show first got started, it was shot in the family's real home. That property was sold in April 2011 for $2.8 million.
Khloe's House
And in other Kardashian news, Khloe just sold the house she owned with Lamar Odom in Tarzana, California, to Big Bang Theory star Kaley Cuoco (who plays Penny) for $5.49 million. (In sort of related news, Robert Pattinson just sold his Spanish Colonial to Big Bang's Sheldon!)
I featured their former home in Dallas before but hadn't seen this house until it hit the market recently. Here are a few photos of the house that newlyweds Kaley Cuoco and Ryan Sweeting will be moving to:
Those of you who watch their reality shows will have to tell me if these houses appeared on them.
Do you recognize any of the rooms?
March 2014 Update:
Khloe has reportedly purchased Justin Bieber's house in Calabasas: "Kardashian's new digs are in The Oaks, a gated community in Calabasas. Bieber purchased the home back in 2012 but quietly put it on the market after some highly publicized run-ins with his neighbors, including an alleged egging incident that led to police searching his home as part of a felony vandalism investigation."
Celebrity chef Tyler Florence is selling his charming 1926 Craftsman in Mill Valley, California, that he calls his family's "sweet little cabin in the woods."…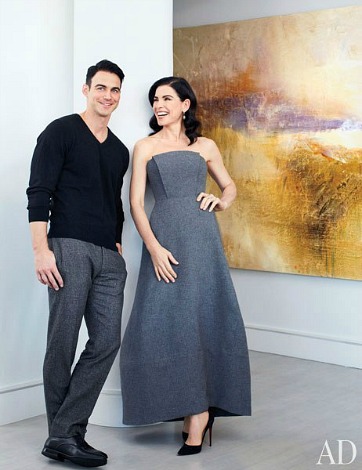 Have you been watching The Good Wife this season? It definitely falls into the "OMG-TV" category. Julianna Margulies has been killing it even more than…