1. The 2013 Holiday Housewalk
Jennifer Rizzo is hosting a Christmas tour of lots of incredibly gorgeous houses around the Internet, including hers (above). Start at her blog and follow the links to see all the others.

2. A No-Sew Burlap Advent Calendar
Laura's Advent Calendar is so stinkin' cute. Visit Finding Home to learn how to make one.

3. 10 Fireplaces Santa Would be Lucky to Land In
Mantels aren't always as easy to decorate as you'd think. If you need some inspiration for yours, check out Susan's post at Between Naps on the Porch.

4. Kelly's Hot Christmas Punch Recipe
This recipe for hot punch Kelly shared at Talk of the House sounds awfully good on a cold day like today. You can make it in a percolator or Crock Pot and she promises it will make your house smell like Christmas. Mmm.

5. How to Hang Decorations Without Using Nails
Melissa has some practical tips for Christmas decorating at her blog The Inspired Room.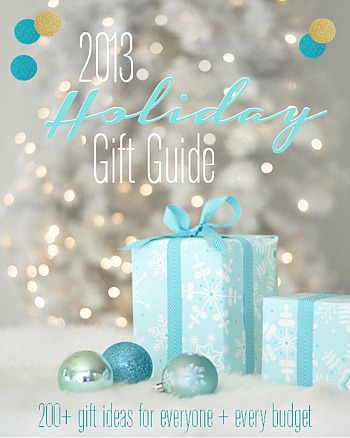 Kate put together an amazing gift guide featuring all kinds of great ideas from submitted by bloggers. Read it at Centsational Girl.

6. For Everyone's Sanity, Keep This Christmas Simple
All I can say about this post at The Art of Simple is "Amen." I'm trying to keep mine as low-key and stress-free as possible. We're simplifying our gift list this year and buying less. I'm opting out of doing a mass Christmas-card mailing. And I'm giving myself permission to reuse as many gift bags from previous years as possible to save time (and paper). But I think the key is to be intentional about what I do and don't choose to do this time of year. I want to focus on the things that mean the most to me and my family.
The school just declared a snow day, which is always a little exciting. Makes me feel like dropping everything to read books and watch Christmas movies. Have a wonderful weekend!
Click here for More Holiday Inspiration, including…

A Tudor Decorated for the Season
(Visited 1 times, 1 visits today)