This small, 500-square-foot cottage was built as a combination guest house and art studio for one (lucky) couple in Golden, Colorado. It looks like something out of a happy fairy tale, doesn't it?
Its design was a collaboration between the homeowners and Peter Boes of TKP Architects.
In an article on Houzz, Fred Albert writes that it "looks like something straight out of The Hobbit. Rugged stone walls seem to emerge out of the landscape, framing deep-set windows and a fairy tale door fitted with a functioning porthole window."
"The interior is just one open room with a bathroom tucked behind the fireplace and a sleeping loft above."
There wasn't space for a "real" staircase, so the homeowners came up with a vine-like ladder beside the stone fireplace that leads to a sleeping loft for guests:
"The ceiling trusses were made from longleaf yellow pine salvaged from a Civil War–era munitions factory in Louisiana. The same wood was used on the plank floors as well. The walls are new whitewashed hemlock."
The wife designs jewelry in the cottage when it isn't being used for guests. They built little niches into the side of hte fireplace to display some of her work:
They can sleep more guests in the living room when the Murphy bed is opened up:
The bathroom has a custom concrete sink and an operable porthole window that echoes the one in the front door:
Their cat Madison clearly feels as if this cottage belongs to her:
Wouldn't you love to be a guest here? To learn more, visit TKP Architects and Houzz.
P.S. Daydreaming about Guest Houses? Here's another one that charmed me:
When I saw this yellow Victorian for sale in Greenwich, Connecticut, I had to know more about it. After a little digging, I found an…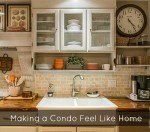 When a reader named Gaynell showed me how she updated and decorated her mid-1970s two-bedroom condo in Marietta, Georgia, I was wowed. She says they…