This ordinary, white-on-white apartment looked a lot like one I used to live in. It didn't have a lot of personality to begin with, but Viviana saw the potential in the space. Check out how she gave her living and dining areas a colorful and cool new look with a mix of modern and vintage finds…
Viviana, who is originally from Brazil, lives in this 950 square-foot apartment in California with her husband. They did all the work of remodeling their home themselves, including scraping the old popcorn off the ceilings, which couldn't have been a fun job!
The new floors make a big difference, too.
The wallpaper on the accent wall is a vintage pattern she found on a German website.
She told the blog A Beautiful Mess that this is the heart of their home: "We love mixing drinks using our makeshift vintage bar (which is actually just a collector cabinet from Ikea that we put some mirrors at the back for an added pizazz) and watching DVDs."
"We've been living in this apartment for six years, and it has changed quite a bit," she says. "To be honest, I don't think we'll ever finish it for good, because we just love decorating and DIY projects so much."
You can see more of Viviana's apartment on Flickr and A Beautiful Mess.
P.S. See more Retro Rooms, including…
When I saw this yellow Victorian for sale in Greenwich, Connecticut, I had to know more about it. After a little digging, I found an…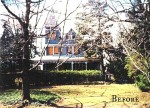 A reader named Joy wrote me about her home in Garrett Park, Maryland, which was built in the 1890s for the town's mayor. She and…