When it comes to celebrity real estate, it's hard to keep up with all the houses Ellen DeGeneres buys and sells. Soon after I showed you the horse ranch that she and Portia de Rossi owned, they put it on the market and bought designer John Saladino's romantic stone villa in Montecito.
Three years ago I wrote about Saladino's villa, which was then on the market for $24.5 million. It was built in 1928 by architect Wallace Frost, but by the time he bought it in 2001, it was, as Veranda described it, "a romantic ruin." He says, "Part of the immediate appeal of the house was its mix of grandeur and modesty."
He spent four years restoring it and making it beautiful again and even wrote a book called Villa about his love affair with the house.
When my real estate snitches started emailing me to say that Ellen and Portia had bought this house, I recognized it right away as Saladino's. It's the kind of property you don't forget.
Zillow reports that they paid $26.5 million: "The villa has 6 bedrooms, 9 fireplaces and 7 baths. It sits on 13 acres with ocean views. The two-parcel property is incredibly private, with luscious landscaping and gracious indoor and outdoor living areas."
For more photos and information about the villa, visit my original post about it.
Since they bought the villa, Ellen and Portia are now selling the equestrian ranch that was featured in Elle Decor earlier this year. You know what that means–we get to see more of it in the listing photos! (I get ridiculously excited about these kinds of things.)
The 26 acre ranch is in Thousand Oaks, California, and comes with 8 farmhouse cottages, as well as horse barns, stalls, trails, and a tennis court.
Ellen told Elle Décor in the April issue, "I can only change the furniture so much and I get bored. Then I need a new structure to work on."
If I had their kind of money, I'd spend it on houses, too.
I think this kitchen is utterly charming with the fireplace and vaulted ceilings:
Redfin reports: "After only two weeks on the market, Ellen and Portia just increased the price of their equestrian estate by $2 million dollars, from $10.995 million to $12.995 million!" They note that the change is unusual, considering that the amount typically goes down over time, not up.
The company Interior Pixels filmed a beautiful video of Hidden Valley that you can see on their website, and it's fun to compare the listing photos to the ones from the magazine, which you can see here: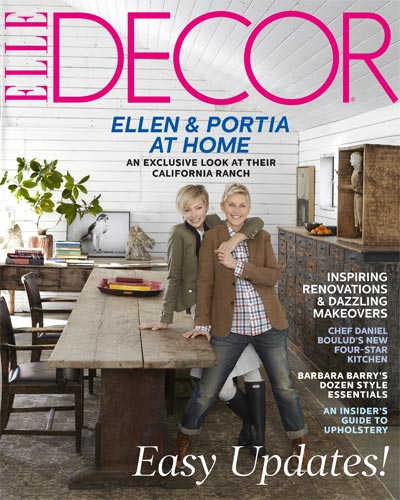 P.S. Visit Celebrity Houses to see more, including…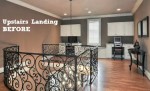 Designer Eric Ross says his client was downsizing from her previous home, so she didn't really need new furniture or accessories. She just wanted to…
 1. Cindy Crawford's Beach House A little birdie tells me that supermodel Cindy Crawford owns this this lovely beach house in Malibu, and that you…