The Gerald B. Tonkens House in Cincinnati, Ohio, was designed by Frank Lloyd Wright in 1955 and is listed on the National Register of Historic Places. It made news when it went on the market for the first time this year. Take a look!
Note: There are affiliate links in this post that may pay me commission but won't change the price.

The Tonkens House Designed by Frank Lloyd Wright
It sits on over four acres in Amberley Village, down a "winding Cherokee Red-stained drive with two Frank Lloyd Wright-designed street-level entry gates." It's been in the Tonkens family since it was built, and most of the original furniture that the architect designed for it remains intact.
When you walk into the house you see a long and narrow hallway lined with books…
Wright wanted there to be a "big reveal" at the end of it when the hall opens up into a large living room.
The listing says:
"This best-of-breed Usonian Automatic home is set on over 4 private park-like acres on one of the finest streets in Cincinnati's Amberley Village. Built to Wright's exacting standards using 11 different patterns of concrete block with over 400 inset windows creating a one-of-a-kind indoor/outdoor light show."
The house has 3 bedrooms, 2 baths, and 3,100 square feet.
"Features include interiors paneled in Philippine Mahogany, bedroom wing ceilings gilded in 18K gold-leaf, and grand 13' 6" high living & dining rooms anchored by a massive fireplace."
The architect's son Eric Lloyd Wright moved to the area for 18 months to oversee the construction of the house himself.
"Included in the sale is an extensive collection of original documents, plans, correspondence, telegrams and the like between the owners and Frank and Eric Lloyd Wright. In addition, there are numerous boxes full of photos, articles and books featuring the house, letters from famous folks who visited the house including: Walter Cronkite, Neil Armstrong, Jack Lenor Larsen and many others."
"This house has the FLW signed red tile inset by the front doorbell designating Frank Lloyd Wright's approved of its construction to his specifications. As well, inset into the house near the FLW tile is a brass plaque indicating this home is on the National Historic Register."
Asking price if $1.788 million. For more photos and information about the Tonkens house, visit the Comey & Shepherd listing. (Sorry, but it already sold!)
If you're a Frank Lloyd Wright fan looking for a good read, Loving Frank is one of my faves: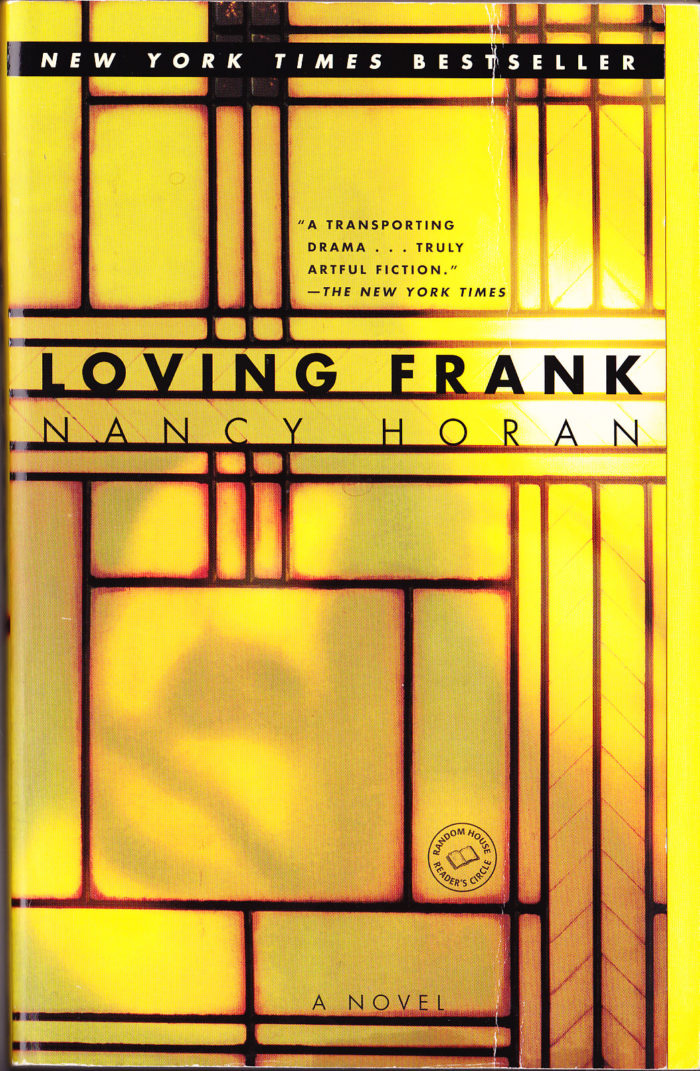 Author Nancy Horan wrote the story from the point of view of Mamah Borthwick Cheney, who had commissioned him to design a house for her family.
The blurb: "During the construction of the house, a powerful attraction developed between Mamah and Frank, and in time the lovers, each married with children, embarked on a course that would shock Chicago society and forever change their lives."
Scandalous stuff! Definitely a page turner for anyone who enjoys historical fiction.
BTW, I've featured other Frank Lloyd Wright houses built around the country that you might like to see, including…
The Haddock House is a small Frank Lloyd Wright design in Ann Arbor, Michigan. The house was originally designed by FLW for a schoolteacher in Wisconsin. However, it wasn't actually built until 40 years later.
This "petite antique cape" in Vermont was built in the 1820s and reminds me of one of my favorite movie houses--Diane Keaton's in Baby Boom.…
It's been great having the kids home for the summer, but it's also a challenge since I'm still working and trying to juggle everything. Add…