This "petite antique cape" in Vermont was built in the 1820s and reminds me of one of my favorite movie houses–Diane Keaton's in Baby Boom. After a recent renovation, the homeowners shouldn't have all the problems she did with hers, though (remember when it was snowing on her stairs?).
UPDATE: I found bigger, better photos of this house and a before shot of the kitchen that you can see here.
The architectural firm of Smith & Vansant was enlisted to update the old house, and on their website they explain the design challenge: "The size of the original building is very small, so everything we did needed to respect that scale, especially as seen from the road."
"The house is quite small by today's standards," Pi Smith, the project architect, told Houzz. "All of the spaces we designed are working really hard."
Two of the client's primary goals were to have a better indoor-outdoor relationship in the house and to use "every conceivable nook & cranny as creatively as possible for storage."
I love all the bookshelves throughout the house.
The homeowners also wanted a new "sunlit, eat-in farmhouse kitchen to be the center of the house."
"The client had owned the home for 15 years, dreaming of and planning for a kitchen renovation for every one of them. While she waited, she filled her barn with collections in anticipation of the day they would rebuild, storing vintage plumbing fixtures, light fixtures, cabinet hardware and antique tiles, among other things."
"The renovation began with the kitchen, and the kitchen began with this oversized salvaged sink, which had been waiting in the barn for years for its moment in the sun," according to an article in Houzz written by Becky Harris. You can read the rest of it and get all the details about the renovation there.
The outdoor spaces are as beautiful as the indoor. For more information about the Wiley Hill Cape project, visit the Smith & Vansant website. (Photos by Rob Karosis.) 2017 NOTE: You'll find better photos in my updated post about this house!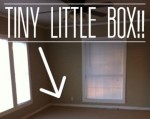 When Amy moved into her new house, she says she was "a bit nervous to sign the lease" because it was smaller than she was…
This unusual "Grand Craftsman," which was built in 1915 with three stories and nearly 9,000 square feet in Portland Heights, was designed by Oregon's first…