My sister-in-law Amy just came to visit. When she saw my home office, she asked, "Is this where the blog magic happens?" Yep. This is it, folks. I spend a lot of time in here, which may explain why I redecorate it so often.
It's come a long way from that boring white box of a room my daughter so happily posed in back in 2006, and it just got yet another makeover. But before I show you that, let's take a look at how it's evolved over the years…

My Home Office's Evolution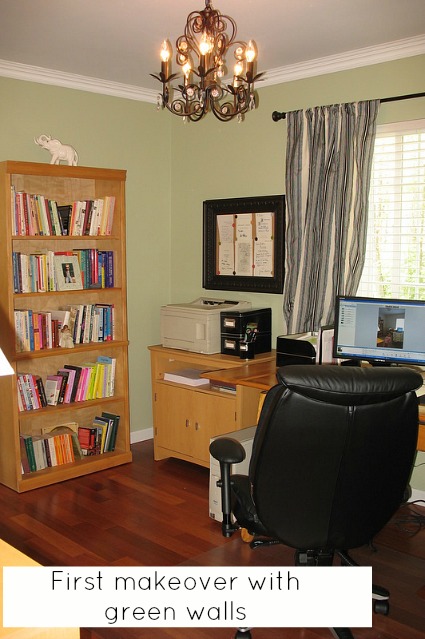 For my birthday in 2007, my husband Dave gave my study its first makeover. He ripped up the carpet and put down hardwood floors. He painted the walls ("Tawny Green" by Waverly Home), added crown molding, and replaced the boring ceiling fixture with a new chandelier.
Much better.
I liked the green, but it always felt a little dark in here. My window faces our wooded backyard, so it was like sitting in the shade. I needed it to be a little brighter.
In 2010 I decided to lighten things up with a pale blue wall color (Eddie Bauer's "Seaside"):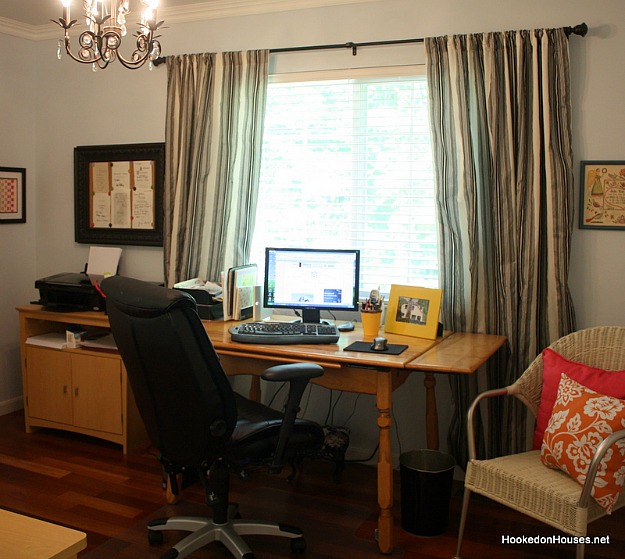 It was lighter, but there was something about that shade of blue that always felt a little chilly to me. I added some orange and yellow and hot pink around the room to warm things up a bit but it never seemed quite right.
Also, those silk curtains were always wrinkly and messy looking no matter what I did to iron them out, and they kind of drove me crazy.
One day I decided I couldn't take the sight of them another minute and took them down. I planned to get new ones, but the window was bare for the next 2 years(!). Funny how that happens…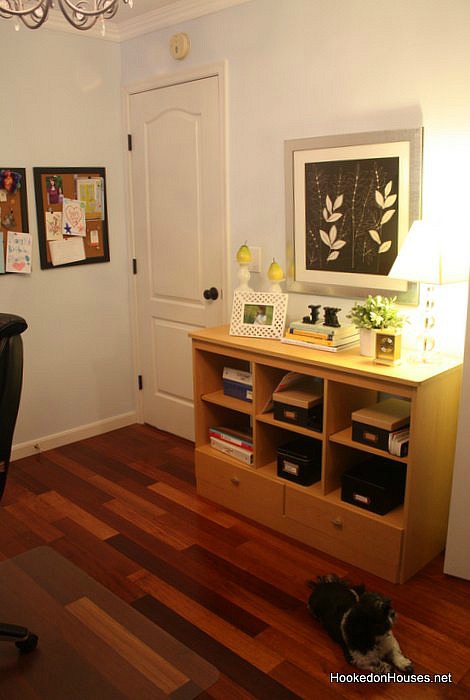 Sharp-eyed readers will notice we switched out the brassy gold doorknobs, too. That was a major project but we finally replaced all of the cheapo door hardware throughout the house with something more substantial.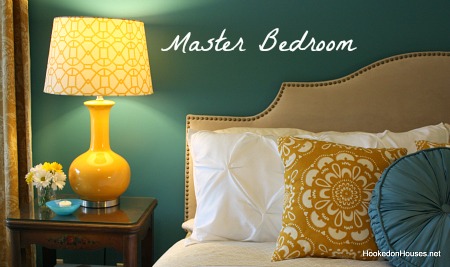 It posed a new problem for me, though, because my office is connected to the bedroom. There are French doors between the two, but they're almost always open. And you can just imagine how awful the light blue looked with the deep teal. It wasn't good.
I wasn't sure I wanted my study to be this dark, though. The solution? I painted it "Sea Song," which is one step lighter on the paint strip. In these photos the colors look totally different, but when you're standing between the rooms they look almost identical.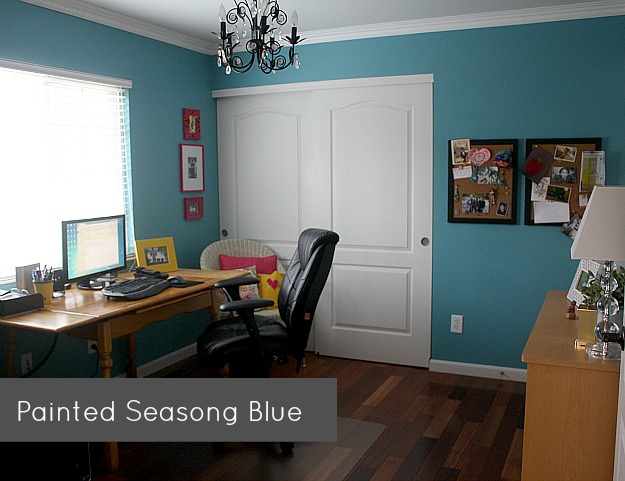 That was last summer.
I finally finished it with new window treatments and a lamp this spring, and here's how it looks today:
It's a lot better than the original drab space I had to work in, for sure:
I wish I'd thought to get Lily to pose for me in it again. 🙂
She made that little yellow pillow for me on the chair below with the heart on it "to match your study!"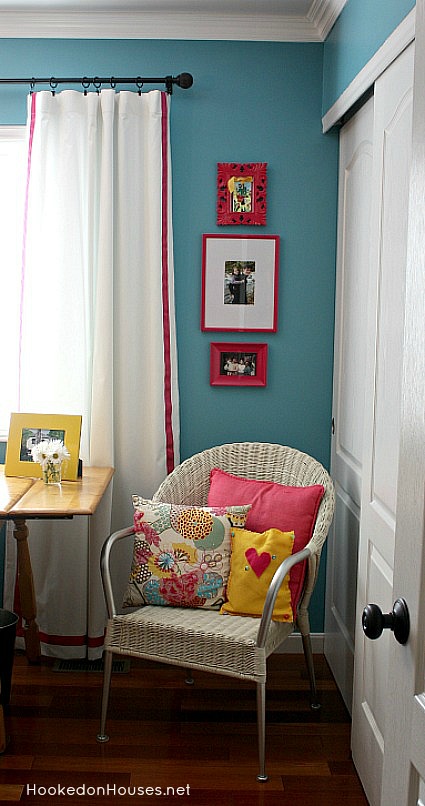 I had been searching for some simple curtains for this room for years.
I found these in the Pottery Barn Teen catalog, of all places. I guess I'm a teenage girl at heart!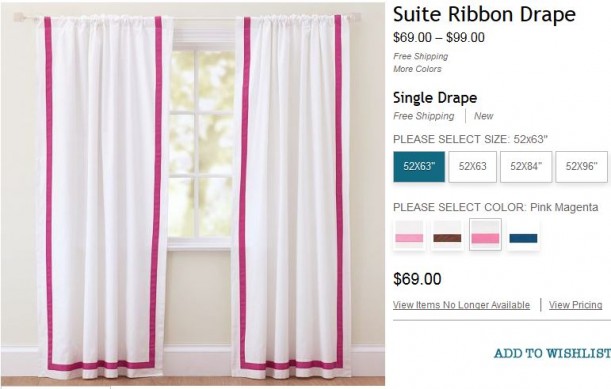 When I saw the coordinating lamp with a hot-pink ribbon on the shade, I couldn't resist it, either: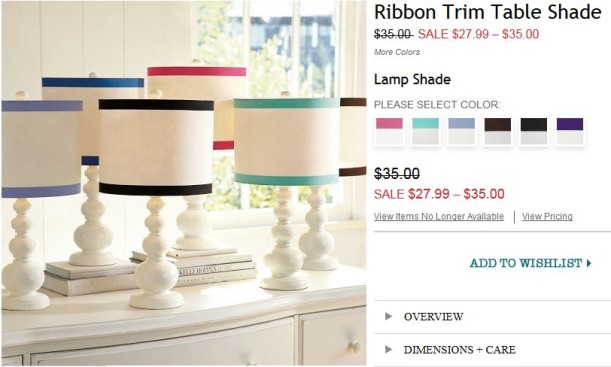 I'm always amazed when I see home offices that other bloggers work in who have small desks that have nothing but a laptop on them and straight-backed chairs. I couldn't live without my big screen and a comfortable desk chair.
Also, where do those bloggers hide the practical stuff like printers and file cabinets? (For the record, my files are behind that closet door!)
One thing that hasn't changed over the years:
I always keep a painting of my childhood home on my desk. I loved that house.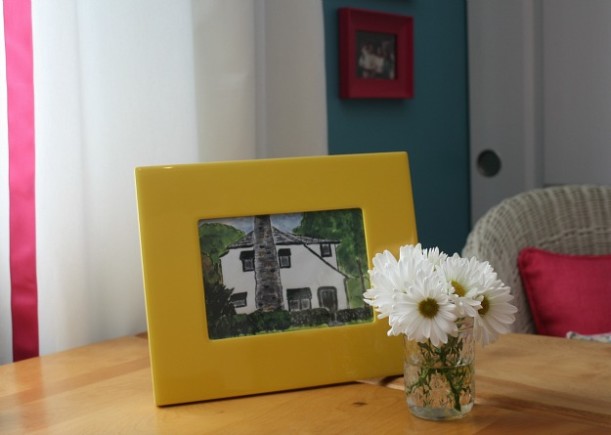 Another thing that hasn't changed: the furniture. I'm still using the old repurposed kitchen table from my childhood as a desk and bookshelves we've had since our first apartment.
These cubbies were a Target find nearly 15 years ago, but they still keep me organized: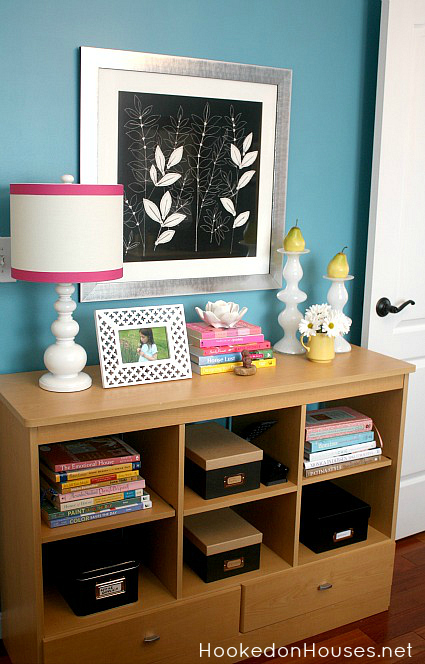 This was supposed to be a bedroom, but we added the doors leading into the bedroom to make it part of our master suite. (We added a bigger bedroom down the hall over what was supposed to be a two-story family room–you can see it here.) It's the smallest room in the house, but it's all I need.
Once again, here's how the room looked when we first moved in:
And here it is today: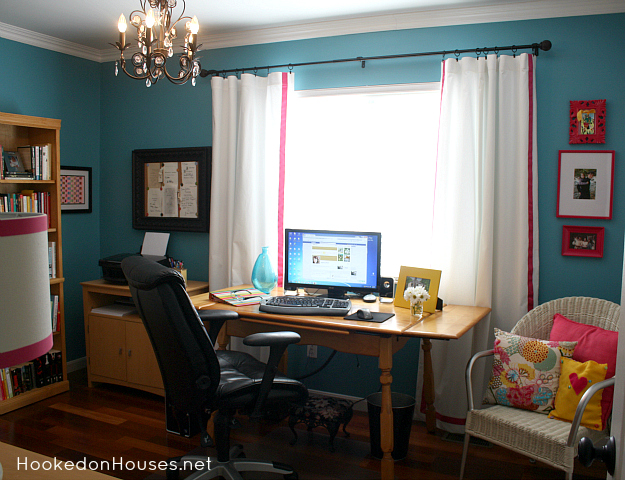 It's a bright, happy space to work in now.
Wonder what color I'll paint it next? Ha. I think I just heard my husband groaning from the next room — just kidding, Honey! I'll wait at least another year. 😉 Do you have a room in your house that you can't seem to leave alone?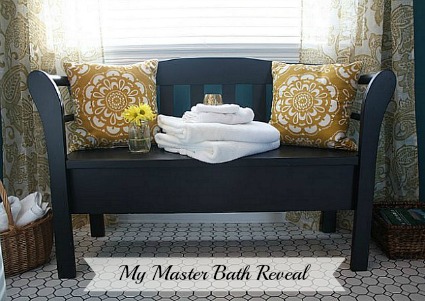 (Visited 46 times, 1 visits today)