I always love seeing the spaces bloggers work in at home, so I thought you might enjoy seeing mine, as well.
It's come a long way from that boring white box of a room my daughter Lily posed in back in 2006. We had just moved in and I set up shop in the smallest room of the house. At the time I was working as a writer and editor for a textbook publishing company, and the space was an uninspiring one to spend my days, to say the least.
It didn't look that way for long, though, thank goodness. The giant computer monitor and broken-down chair are gone, and so is the beige carpet.
Wanna see how it looks today?

My Home Office's Colorful Makeover
For my birthday a few years ago, my husband Dave ripped up the carpet and installed hardwood floors in the room for me. It's amazing the difference wood flooring can make in a room!
I also upgraded a few other important things in the room since then, like a new computer and desk chair so I no longer feel like I'm working in the Middle Ages, ha.
It's a small, unremarkable space, so I wanted it to feel both cozy and colorful. The new wall color I chose is Sherwin-Williams "Sea Song."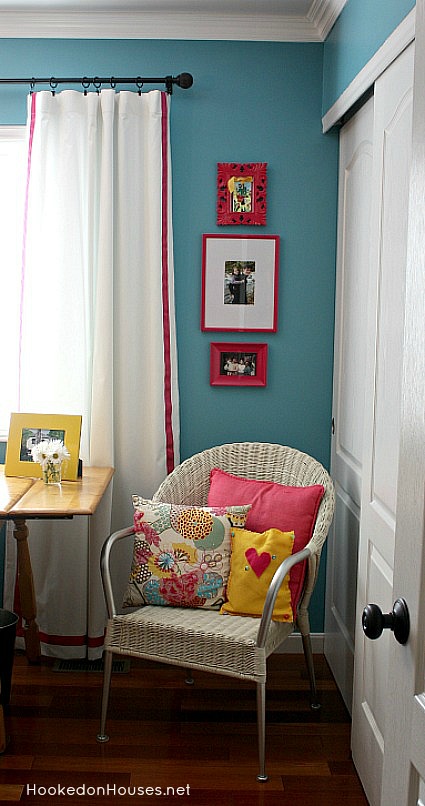 I went with yellow and hot pink accent colors to keep things lively.
I wish I'd thought to get Lily to pose for me in it again. 🙂
She made a little yellow pillow for me with a pink heart on it "to match your study!"
I'm always amazed when I see home offices that other bloggers work in who have small desks that have nothing but a laptop on them and straight-backed chairs. I couldn't live without my big screen and a comfortable desk chair.
Also, where do those bloggers hide the practical stuff like printers and file cabinets? (For the record, my files are behind that closet door!)
This was supposed to be a bedroom, but we added French doors leading into the Master Bedroom so it's part of our Master Suite.
It's the smallest room in the house, but it's all I need.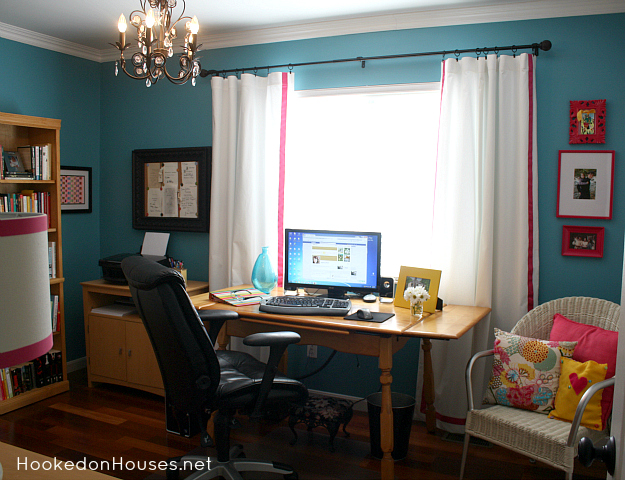 It's a bright, happy space to work in now.
Thanks for stopping by! I hope it inspired you to give your work space a little more color, too. 🙂