When I woke up on Monday and saw snow falling outside my window, I thought it must be an April Fool's Day joke. I mean, really. Aren't we done with winter-coat weather yet? All the cold, snowy days we've had lately have made it hard to get in the mood for any kind of spring decorating…
But then I got a little inspiration in the mail–a case of 6 limited-edition Ball Heritage Collection Pint Jars. They commemorate the 100th anniversary of the Ball brothers' "Perfect Mason Jar" that came out of Muncie, Indiana, in 1913.
I almost never accept freebies from companies, but I couldn't resist these. They remind me of my husband's Grandma Blanche who had shelves lined with canned fruits and vegetables. We have one of her old glass jars that I keep on my kitchen windowsill and I always wish I had more.
These feature a "vintage-inspired blue tint and period correct embossed logo." I knew I had to find some way to use them in my dining room, which had been looking a little lifeless and dull since the Christmas decorations came down in January.
At first I put little electric candles in them, which created a warm glow in the room at night.
But as soon as I was able to get my hands on some daisies, I turned them into vases. They made the room feel like it's ready for warm weather now–even though it's still chilly outside.
Do you use Ball Jars in your house? What do you do with them? You can learn more about them at Fresh Preserving.
When I looked down from the upstairs hallway and saw my daughter Lily dusting the dining room, I couldn't resist snapping a pic. 🙂
Is it still cold where you live? It was in the 40s here today, but it's supposed to warm up this weekend (fingers crossed). Our spring bulbs and bushes have hardly done anything this year. Usually they're in full bloom by now! If you missed it, you can see how my house looked on a recent snowy day. Here's hoping that's the last we see of the white stuff for a while!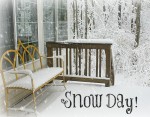 On Tuesday night it started "pouring snow" and by Wednesday morning the school called a Snow Day. Woo-hoo! There's something thrilling about an unexpected day…
When designer Angie Hranowsky and her family moved into a traditional older home in Charleston, South Carolina, "It was nothing but beige." They were renting…