Originally I thought after I announced my kitchen contest in October, I'd simply show my favorite 10 in November, and we'd choose a winner by December. But so many readers submitted photos that I'm STILL sorting through them all. Every day this week I'm going to show you some of the best before & afters you sent in, and I'm kicking it off with 6 of them, starting with Kelly's kitchen reno.
Kelly writes, "My husband John, our Havanese Rylee and I live in a charming suburb of Philadelphia, PA called Narberth. Narberth is where we bought our first home together in August of 2009. The day we settled was the day my husband actually purposed. As you can imagine, the house is very special to us as it was the start to our new life together."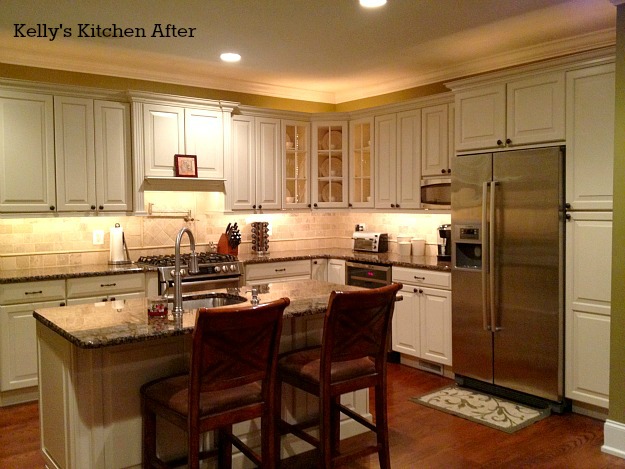 "My husband is a general contractor full time (JP Custom Home Construction) so we opted to buy a fixer upper. We completely gutted the house and turned it into exactly what we wanted. We demolished it down to the studs and even re-did all of the plumbing and electric."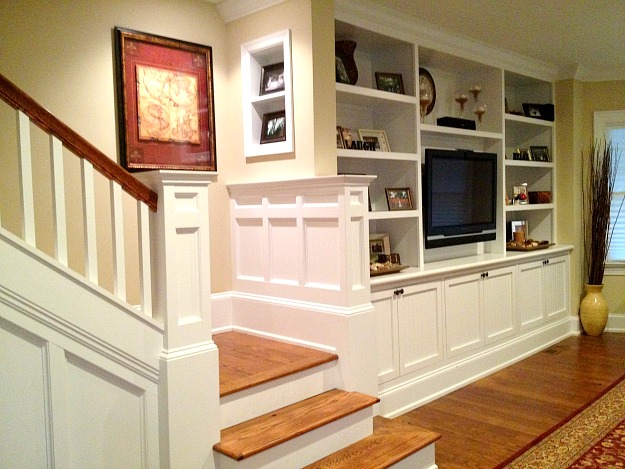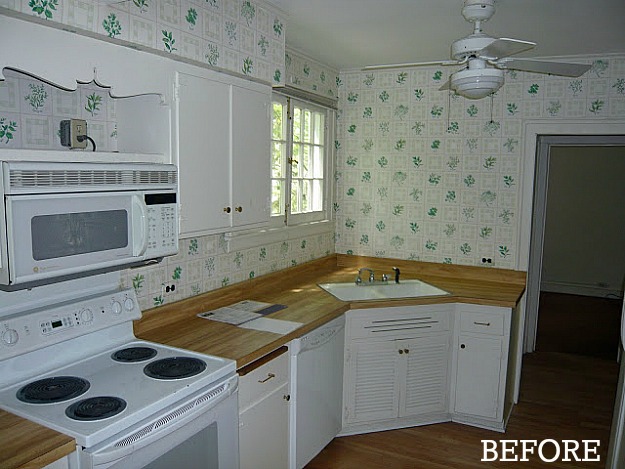 Liz writes, "After almost 3 months of construction, our kitchen is finally complete. And we couldn't be happier with the results."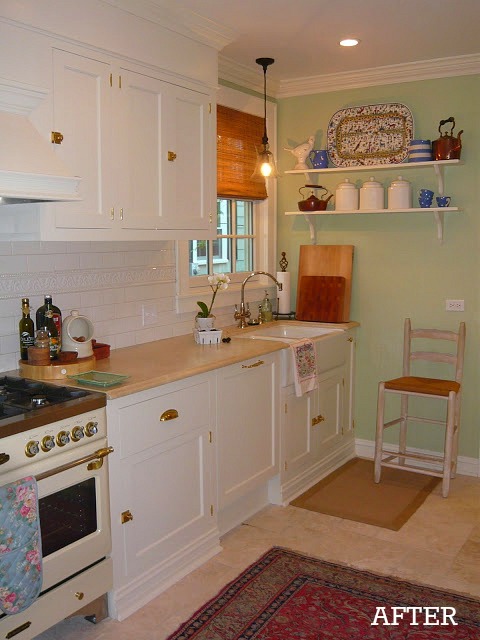 For more photos and details about her kitchen makeover, visit Liz's blog Designing Domesticity.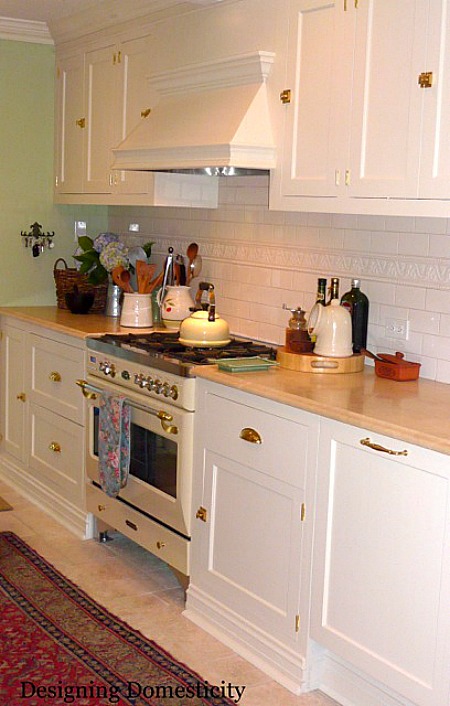 3. John & Jill's Kitchen: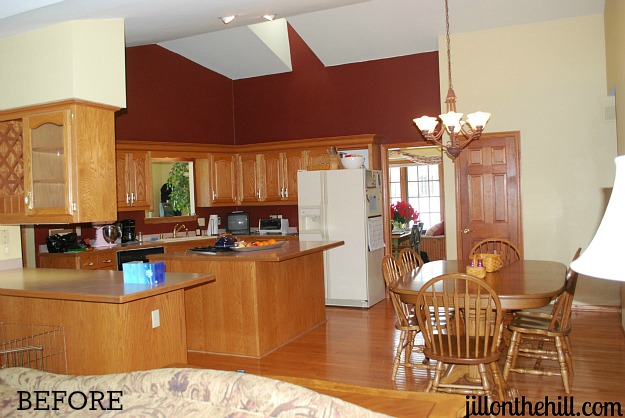 Jill writes, "Cooking for my family of six and cleaning up afterward is a breeze with my new kitchen! I love that family and friends can come over and enjoy each other just hanging out in the kitchen. Induction cooking helps get a meal on the table quickly and my kids love the microwave drawer–they can reach it! Sunshine comes into the kitchen now that we have taken out some walls to enjoy open concept living."
See more photos and get all the details about the reno on Jill's blog.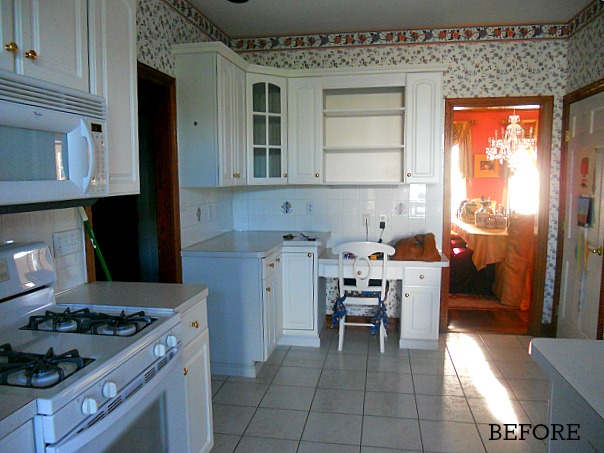 Josie writes, "We built our home in 1997, which was at the tail end of the brass hardware and laminate counter top era. At the time we built our home, we didn't have kids yet and were coming from a small 900-square foot apartment, so anything beyond that was huge in our eyes. When we designed the kitchen, we didn't realize how small and narrow it would be, but we lived with it for 14 years."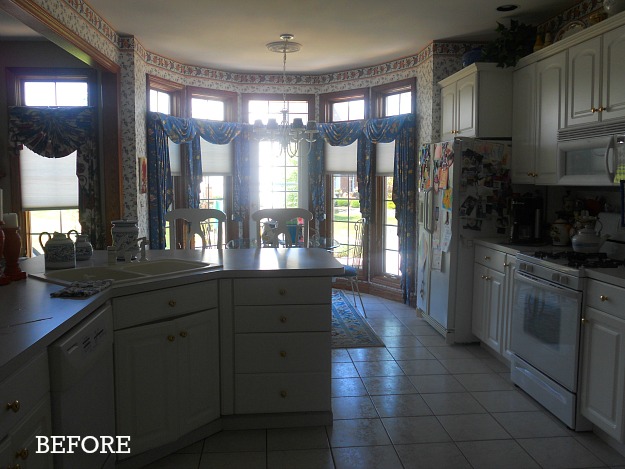 "Last summer, we finally took a deep breath and decided that it was time to not only remodel the kitchen to bring it into modern times, but we also decided that if we were going to go through all the work and money to have it remodeled, we may as well make it larger as well to accommodate our family."
"So, with the help of an architect, we decided to expand our kitchen into what was our old laundry room, ½ bath and back hall coat closet area and then add on a small addition to accommodate those spaces."
"Words cannot describe how much we love our new kitchen. My husband I both come from large Italian families and as with every family, the kitchen is the heart of our home and where everyone seems to gather. So, having all the extra space and large island have made having our friends and family over so much more enjoyable."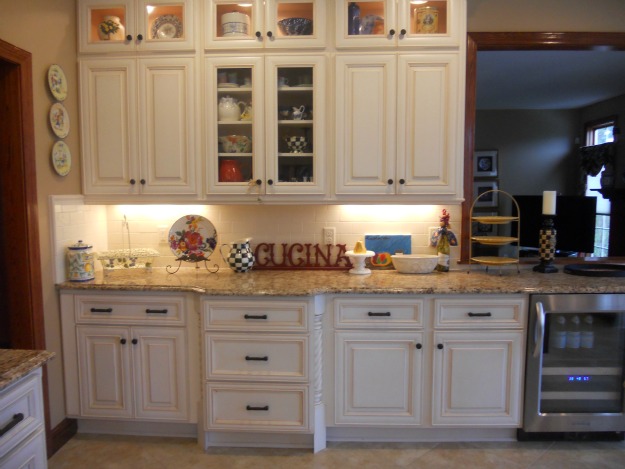 "The goal in designing /decorating our kitchen was to evoke a sense of being in a big Italian kitchen in Italy. I've filled it with lots of mementos from my travels visiting my family in Sicily."

5. Shawn's Kitchen: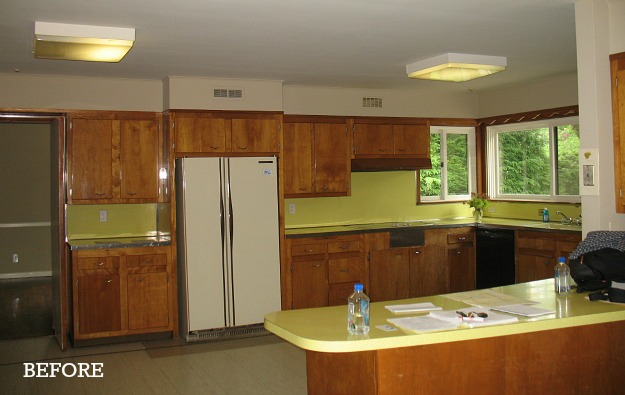 Shawn says, "I love my green and cream kitchen because we were able to start from scratch in an older home that we had just purchased, and I got to select every detail to make it my own."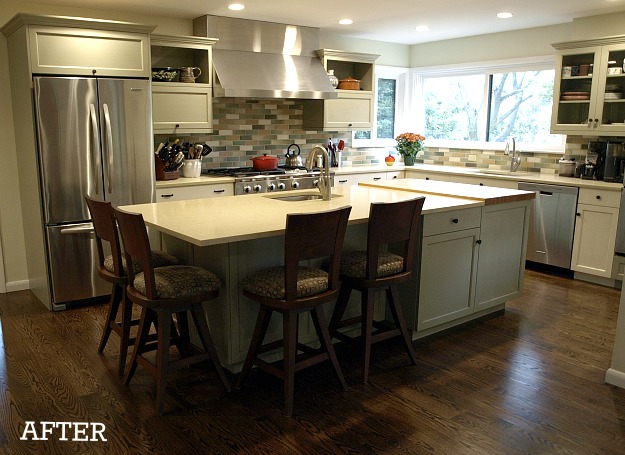 "I picked the tile first and made all my other selections around the tile. I like that my kitchen is a bit different, and more functional than fussy. We love cooking and hanging out with guests in this room."

6. Missi's Kitchen:
Missi says, "We purchased a foreclosure that had been sitting empty for 3 1/2 years. The kitchen had been pretty stripped and the cabinets were pieced together with all different colors of plywood. We had no appliances or cabinet hardware and it smelled terrible. We gutted the kitchen–tore down walls and created paradise."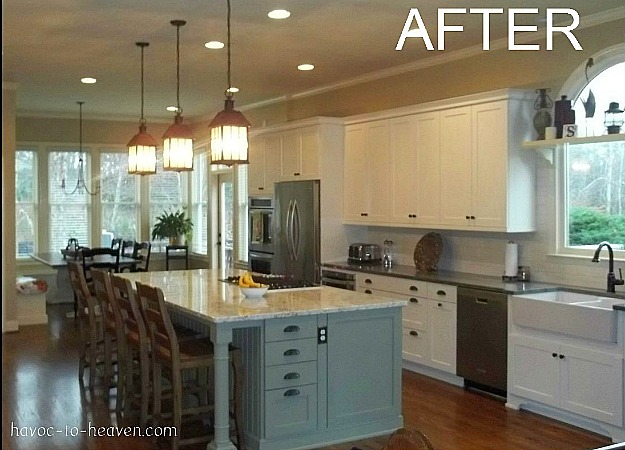 "I love my kitchen because it looks exactly what I always imagined a kitchen should look like for a busy family with 4 teenagers. It is the hub of the house and we spend most of our time around the island or at the banquette in the breakfast nook. It is comfortable, roomy and we are so proud of how it turned out. We had so much fun designing it from start to finish!"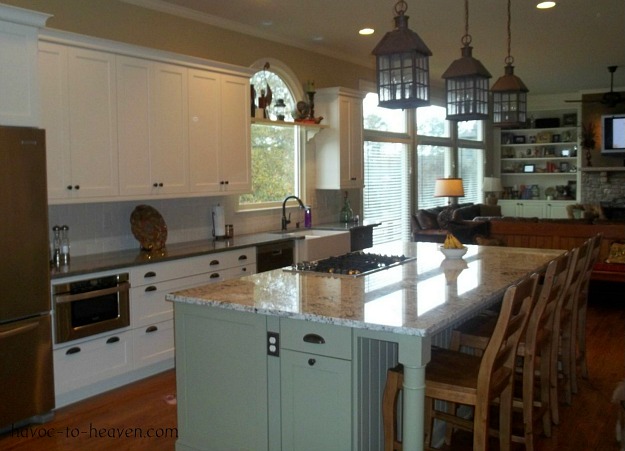 For more photos and info about Missi's reno, visit her blog Havoc to Heaven.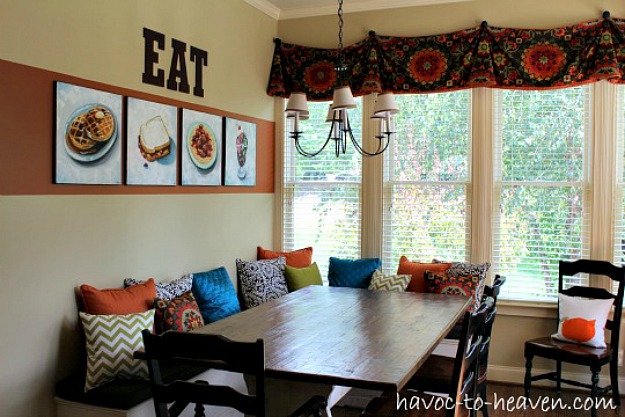 Many thanks to all the readers who submitted photos for my contest. I wish I could feature them all! As always, I ask that you keep comments about fellow readers' houses polite and positive–thanks. You can see the others I've featured here: Kitchen Stories.
Stay tuned for a week filled with more great kitchen remodels!
(Visited 17 times, 1 visits today)