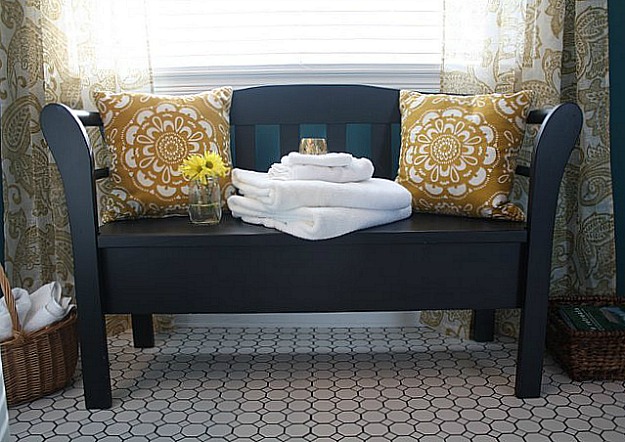 So. Last time we talked about my master bathroom, I was feeling just a teensy bit emotional. We had just gotten new tile installed, which I expected to love.
But it felt like a total FAIL to me because I hadn't realized that the black grout we chose would line the edges of the room. And that it would look an awful lot like black mold…
Here's a snapshot I took, and you can see it didn't look too bad from a distance: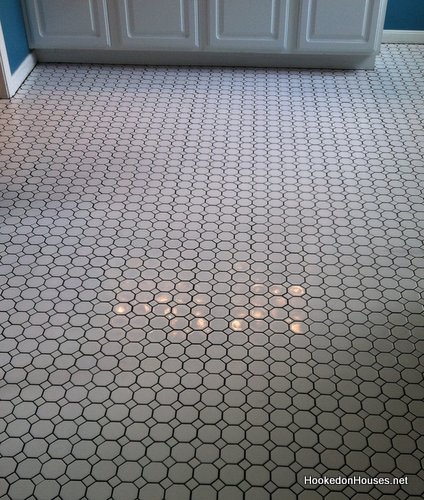 But if you looked more closely, you could see that in the process of laying the tile, the black grout had stained the woodwork pretty badly and left a nasty black edge around everything.
I got lots of great advice from you guys about what to do about it.
Most of you suggested that all we needed to do was install quarter-round along the baseboards to cover it up.
We got some trim that was a little smaller size than that for $20 bucks, and it only took a couple of hours for us to put it down. It turned out to be an easy and effective fix. Hooray!
Here's how one corner of the room looked with the black grout lines before: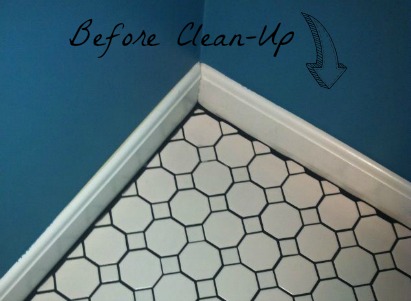 My neat-freakiness couldn't handle that "dirty" look in my bathroom.
Here's how it looks now with the edges cleaned up: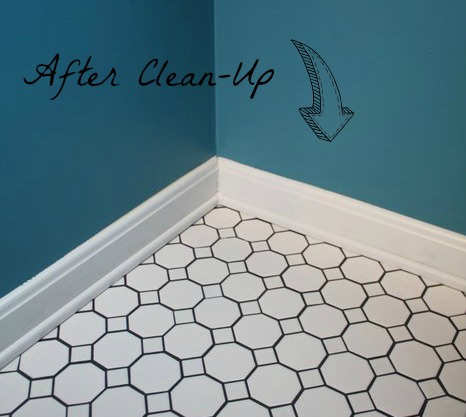 When I stepped back and saw the difference it made, I heard angels singing. Ahhhh!
We touched up the baseboard paint while we were at it, which had gotten kind of beat up by all the grout-slinging, and went around the door frames (where there couldn't be trim) with white silicone.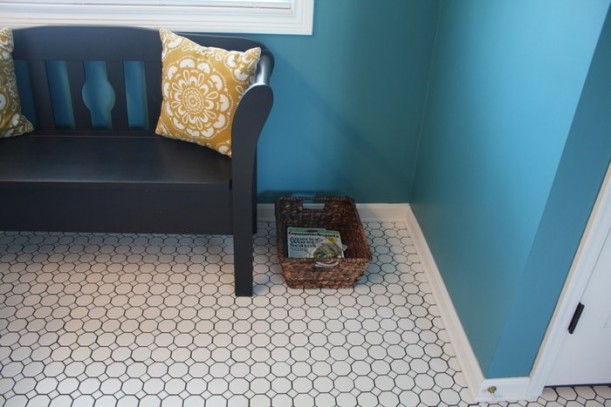 The wall color was originally pretty bland, a neutral beige tone called "Camel."
The new paint color is Valspar's "Ocean Voyage."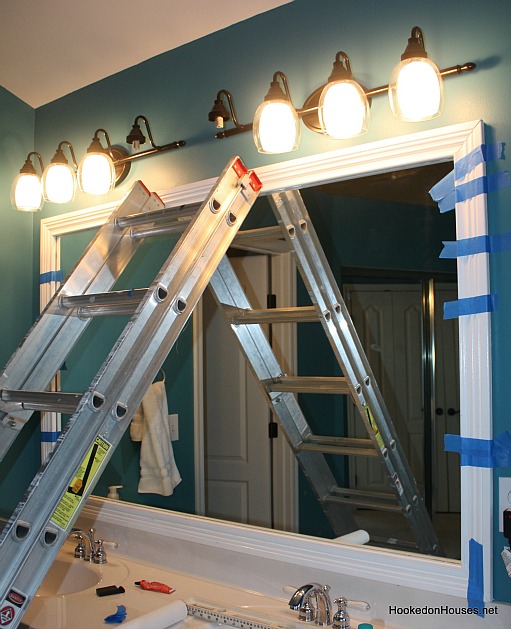 We had a giant plate-glass mirror on the wall that wouldn't come off. So we did the next-best thing and framed it with moldings. But it wasn't easy because you couldn't just nail it into place. You had to glue it. And hold it firmly until it dried.
Our solution: tape and a ladder wedged against it overnight.
The mirror looks a little less "naked" now: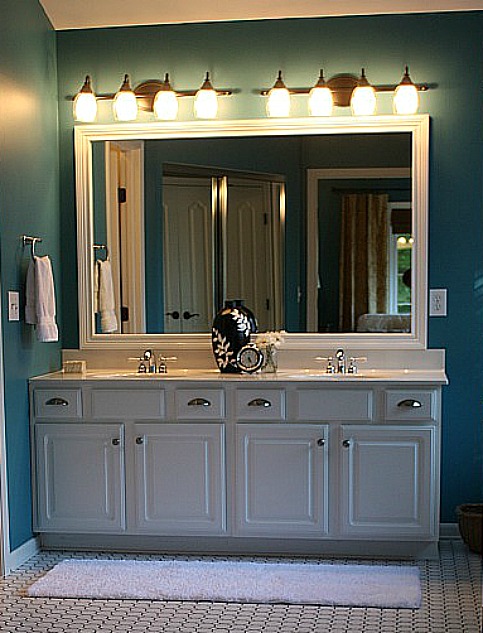 We also trimmed out the window and painted the bench black.
Here's that corner of the bathroom before: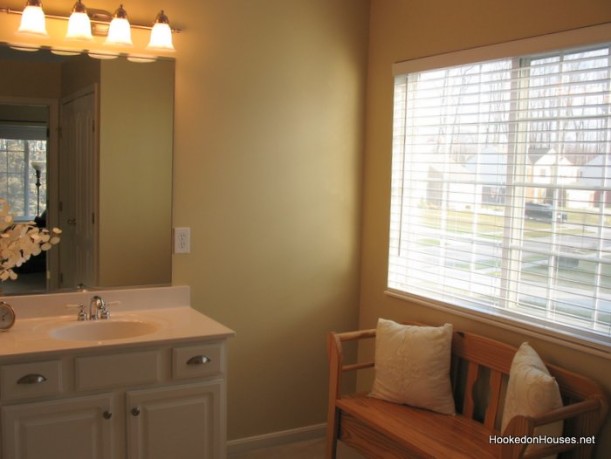 And the same corner of the bathroom after: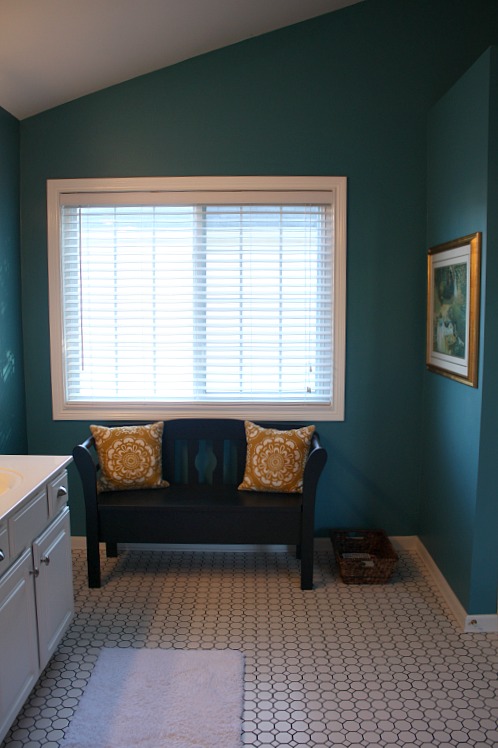 I found some window treatments with the exact color I was looking for at Pottery Barn
(Elena Palampore Linen Sheer Drapes, to be exact).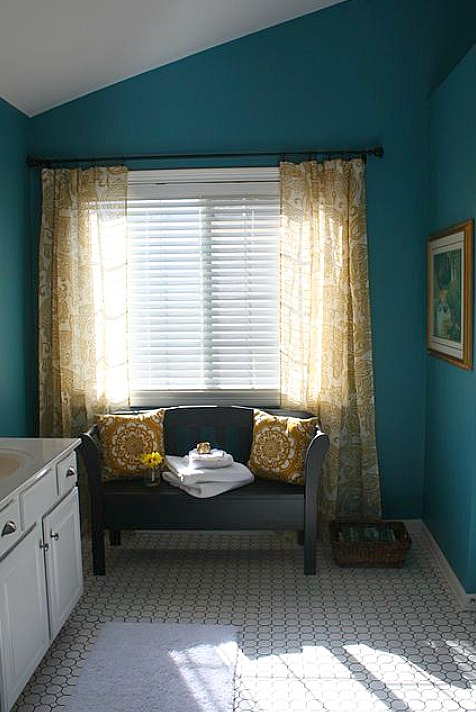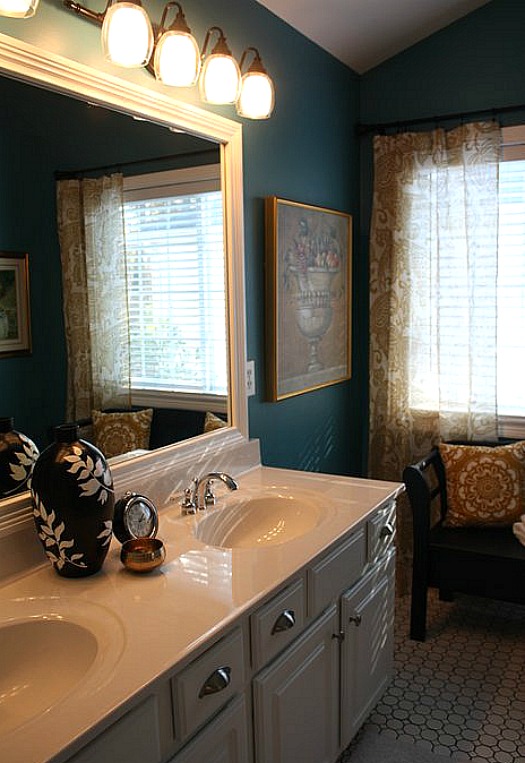 The tile is American Olean Sausalito.
Our laundry closet is in the bathroom, behind the double doors below.
There was supposed to be a giant tub there, but I knew I'd rather have my washer and dryer in my bathroom so I would never have to haul baskets of clothes downstairs and through the kitchen.
We put a tub in the water closet instead. That freed up the laundry room off the garage to be a dedicated mudroom, which I honestly don't know what I'd do without.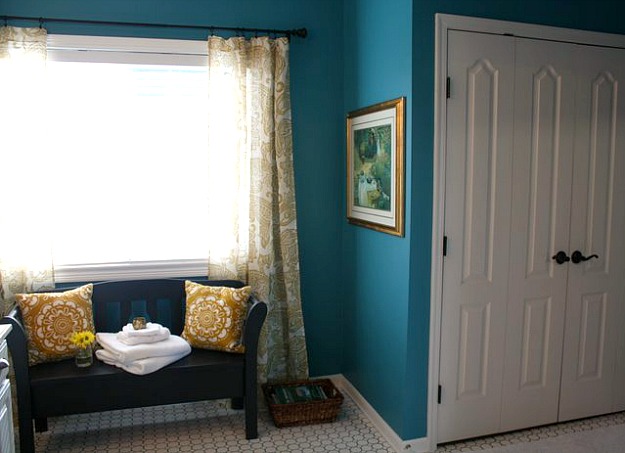 In this next photo you can see how the bathroom is open to the bedroom. I don't know who started that trend, but this is the second house we've lived in that had this set-up and I HATE it.
We added the double doors between the bedroom and bathroom, at least.
Otherwise it would have been completely open.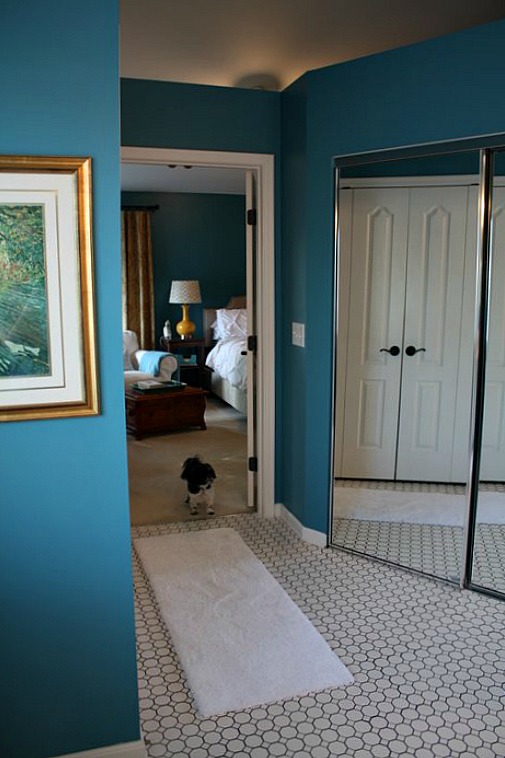 Those mirrored doors lead to our walk-in closet, and the laundry is on the left. The water closet with toilet and tub with a shower are on the other side of the closet doors, which I failed to get a decent photo of.
So there you have it, my pretty-much-finished master bathroom.
I'm still tinkering with it, and I'd love to do a full overhaul someday, but this is already a big improvement over what we had before.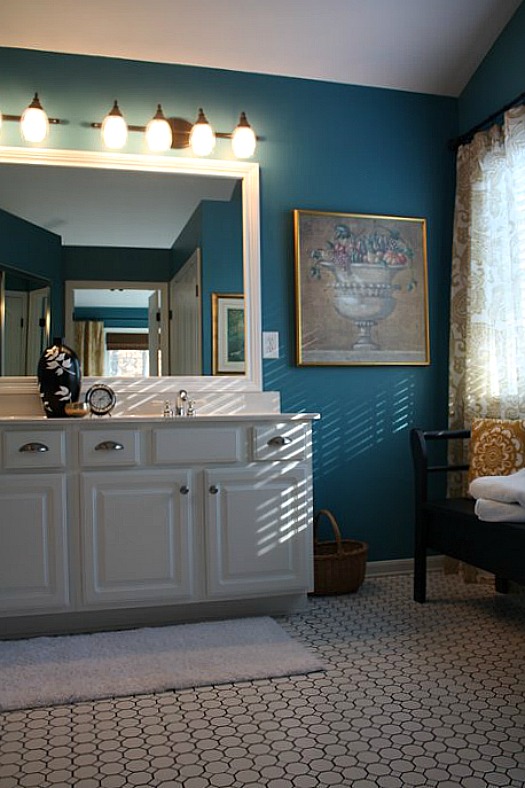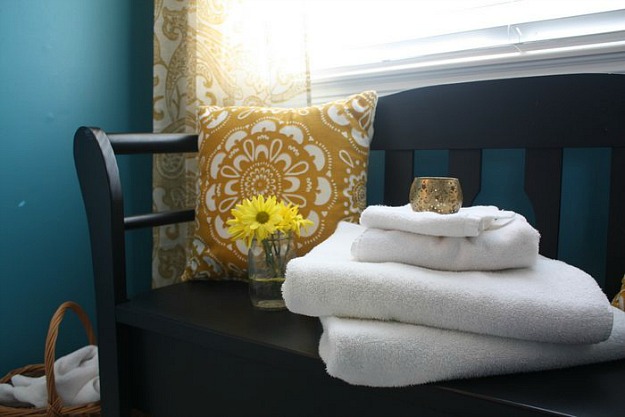 I feel like our master bedroom and bath makeover took up most of my decorating energy (and budget) for 2012.
Now I'm trying to decide what to focus on in 2013. Lots of rooms need new flooring, including our bedroom. I think our finished basement will get some attention, and I'm itching to redecorate my family room.
Do you have any "house goals" for the new year?