Last Friday I featured 10 Celebrity Kitchens and asked which one was your favorite (if anyone's keeping score, Sharon Osbourne's won by a landslide). Someone commented on the post that I should ask readers to send in photos of their "real life" kitchens so I could feature them next time. I loved that idea. So here's what I'm going to do…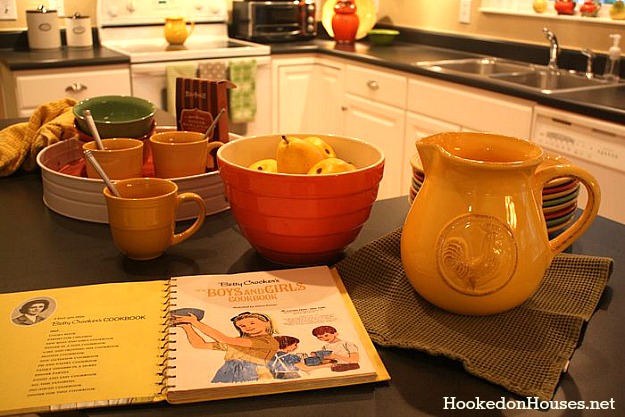 I'm Hosting a "Hooked on Your Kitchens" Contest!
If you want to enter yours, send me a photo (or two or three) and tell me what you love about it. It doesn't have to be big and fancy and "magazine-worthy," although those are okay, too!
All the Deets:
Send your photos to me (click that link to the left and an email addressed to me should open in a new window for you).
Put "My Kitchen" in the subject line so it doesn't get lost in my inbox.
Tell me why you love your kitchen.
If you have a blog and have featured it there, you can send me the link to the post.
Deadline for submissions: November 14.
I'll choose the Top 10 to feature. (Note that photo quality may determine which ones get chosen. They have to be big enough and clear enough for people to see. And no flash photography, please!)
Readers will cast their votes for their favorite kitchen.
The winner will get a $150 Visa Gift Card and bragging rights.
I can't wait to see your kitchens, so start sending them in!
(P.S. Top photo via BHG.)
(Visited 24 times, 1 visits today)