This "French Cottage"-style manor, as it's described by architects Spitzmiller & Norris, sits in the Buckhead neighborhood of Atlanta. It was decorated by designer Suzanne Kasler and featured in House Beautiful magazine. When a little birdie told me that it's on the market, I had to take a look!
It may have been inspired by traditional French Normandy cottages, but it's larger than most with 6 bedrooms, 8 full baths, and nearly 6,500 square feet. The gated property is listed for $3.1 million.
This photo of the entry hall and a couple other photos were taken by Frances Janisch for HB. The rest are from the Sotheby's listing.

The walk-in butler's pantry is to-die for:
The master bedroom:
The house has 6 fireplaces.
For more photos and information about the property, check the Sotheby's blog, the listing by Wes Vawter, the architect's website, and the article at House Beautiful. (Thanks to Kelly for telling me about it!)
*UPDATE*
There's been a lot of discussion here and on Facebook about the fact that there are only shutters on one side of the house in front:
A reader named Manuel even took it upon himself to fix the asymmetry in Photoshop. Here's how it looks with shutters on both sides:
What do you think? Like it better with them or without? (Thanks, Manuel!)
Kasler designs special collections for Ballard Designs. Do you like her style? Check out how she decorated her own house: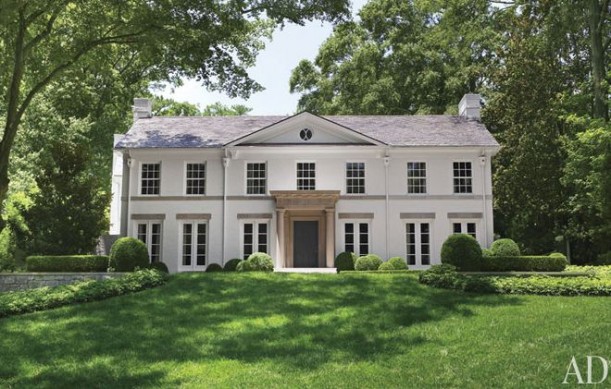 Suzanne Kasler's Regency-Style Manor
P.S. This log home that Kasler decorated in the Smokies was one of my faves:

(Visited 53 times, 1 visits today)