Just got an email from Monique at HomeGoods telling me that they partnered with HGTV designer Taniya Nayak to create a new "one-question quiz that reveals your home design horoscope." Apparently this quiz, called Stylescope, determines your design personality by simply choosing five images that make you happy.
I'm a total sucker for style quizzes like this. Even though I'm skeptical about their accuracy, I can't resist taking them anyway. So I made a beeline to the Stylescope page and clicked the first 5 pics that jumped out at me. Here's what it said my style is:
Apparently I'm "Farmhouse Glam." Who knew?
I'm not sure I would have chosen that title or the photo to represent myself, but after reading the description, I had to agree that there was something to it: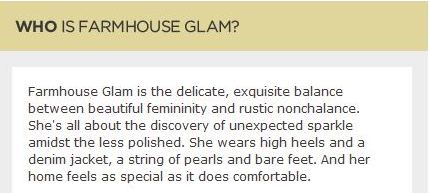 I have a feeling I'm a little more "farmhouse" than "glam," though. I wear more denim than pearls. But I do love things that are both pretty and practical.
Some of the other styles types included in the quiz: Boho, Classic, Metro Modern, Socialite, New Country, Urban Funk, and Vegas Baby. I wonder what Taniya Nayak's is?
If you're curious about yours, head over to the Stylescope Quiz to click the pics and report back! I'd love to hear how accurate it is for the rest of you.
P.S. This isn't a sponsored post or anything. Just a bit of fun.
(Visited 9 times, 1 visits today)