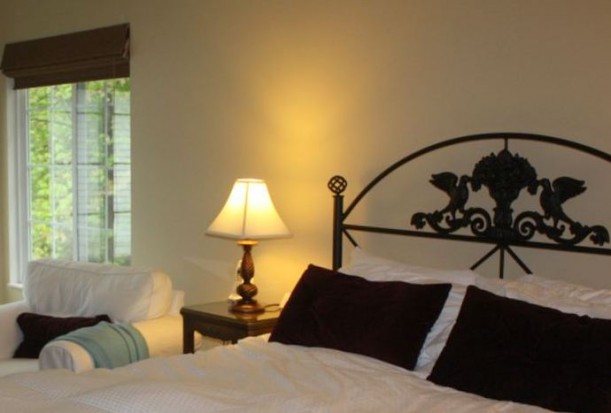 Here's something that, frankly, I hoped I'd never have to show you–my bedroom. Ugh. I'm imagining horror-movie music playing in the background right now.I have been so embarrassed about how undecorated our bedroom has been since we moved into our house that I routinely close the door on it whenever we have guests over and break out into a sweat when they ask for a house tour.
I have made a couple of half-hearted attempts to spruce things up, but nothing really worked. I'd get frustrated and give up. For instance, a few years ago I tried the dark plum thing with curtains and pillows…
Didn't like that. Decided to lighten things up, so I tried white curtains…
Those old chairs were so comfy I was determined to try to use them. So I bought slipcovers…
Um, yeah. That didn't go so well, either.
I finally gave up on making them work and got two Ektorp armchairs from IKEA. After all, I love the Ektorp sofa in my sunroom! Sadly, the chairs aren't nearly as comfortable as the sofa for some reason, but they look better than the old ones that were there, and the slipcovers on them work better than the one-size-fits-all kind:
Also got rid of the curtains and installed bamboo shades. And painted our old iron bed black. And tried a million other little fixes.
No matter what I did, though, I hated this room, from the outdated lamps to the blah Camel color on the walls. Nothing was working. I felt totally stuck. I couldn't figure out what to do with it. Have you ever had a room that totally stumped you like that?
I finally realized that the problem was that I kept trying to make small changes to fix the room, when it really needed a total overhaul. I thought new pillows, new curtains, new chairs, or whatever, would magically transform it.
I was going to have to GO BOLD. Just choose a color scheme, stop trying to make the old stuff work, and go for it. I was inspired by this guest bedroom that John and Sherry painted Martha Stewart's Plumage over at Young House Love:
I loved that dark peacock-blue color and how dramatic it was, but how they were able to keep the room light and bright with colors like yellow and lime green.
Everyone I showed it to, though, seemed dubious. For one thing, our bedroom has vaulted ceilings. So there would be a whole lotta that color to look at. Not to mention the fact that the wall goes right into the bathroom, so whatever we painted our bedroom would be in there, too (which is one of the reasons I've gotten hung up on this for so long!). So I got stuck again.
Until one day I was at Lowe's, looking through their paint swatches, and came across something similar, but a little softer, that I liked: Valspar's Ocean Voyage: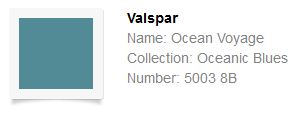 On a whim, I ordered a gallon of it and brought it home to give it a try. It didn't seem to be too much of a commitment to paint one wall.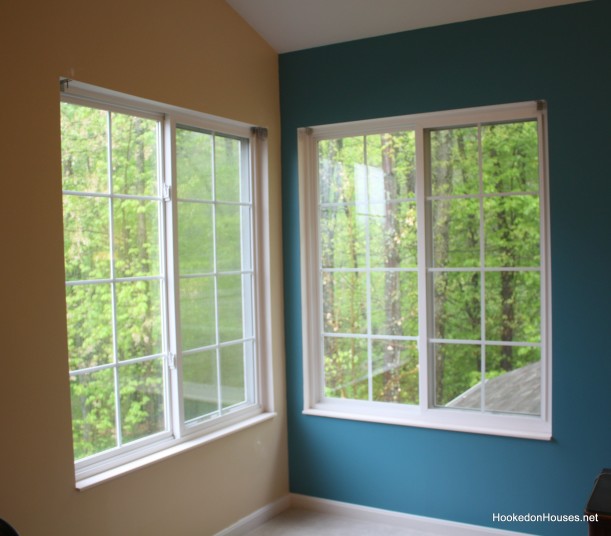 We liked it. So we kept painting. For days, we painted. It wasn't easy, and I swear that I will never have vaulted ceilings in a house again! It takes forever to cut in along the ceiling line when you have to climb to the top of the later, paint a little, climb back down, move the ladder a foot to the left, and then climb again.
And of course a color like this needed more than one coat!
When we finished the bedroom, we had to paint the bathroom–but that's a post for another day. It's the only room in the house I hated more than this one.
We love the Ocean Voyage in the room (which is really hard to photograph–it looks so much richer in person), but it became even more obvious that we needed a new bed, window treatments, you name it, to pull it all together.
So I've been doing a lot of online shopping. A few of the things I've ordered so far include a new King bed. I found this "Kayla Bed" with a velvet headboard in "Buckwheat" and brass nailhead trim: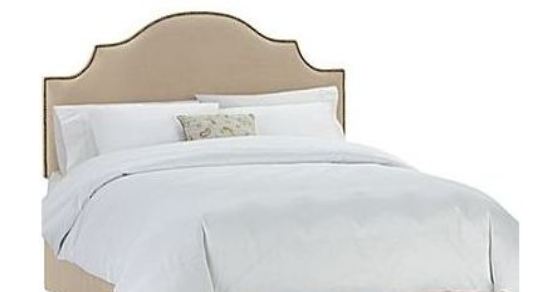 I thought I'd be using yellows and lime greens in the bedroom like in my inspiration photo, but when I brought some pillows in those colors into the room, they just didn't look right. Bummer. Then I tried some yellows that were more gold in tone and voila! Perfect with the teal.
I found these Alessandra window treatments that had just the color I needed:
I got several new lamps. I can't find pics of the exact ones I got online, but they're similar to this: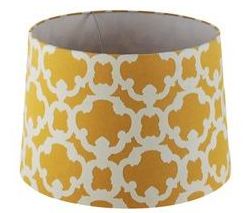 Oh, and some fun accessories for my bookshelves, including these blue textured glass vases from Target (luckily for me, their colors seem to be gold and teal this summer–found lots of good accessories there):

I also got new pillows like these "Medallion" pillows for the bed: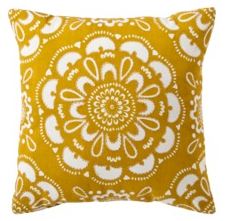 You get the idea. Lots of gold and blue and white.
Now all of these things I ordered are arriving in the mail and we're slowly putting the room together. It's been kind of chaotic lately. As proof, here's a snapshot that shows the state of my bedroom one day recently when we were in the middle of moving everything around:
Yikes. There sure has been a lot of reality in this post. Maybe more than you wanted to see (definitely more than I should probably show!).
But everything's looking a lot better now. Here's a peek at my reading corner today: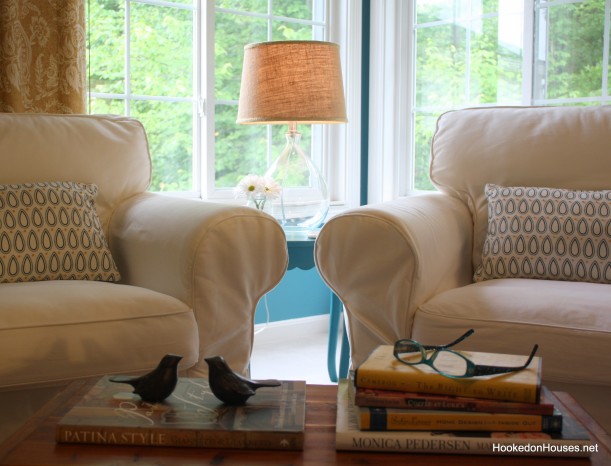 Stay tuned to see the final reveal when I get the whole room pulled together with the new bed and everything else. We're getting there, slowly but surely! Wish me luck. 🙂
*UPDATE: Want to see how it turned out? My Boring Bedroom Gets a Wake-Up Call.*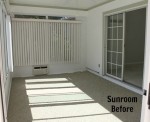 I love a great makeover, and I'm a sucker for sunrooms, so this is one before and after I had to show you. When Jenna…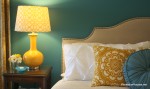 Yawn. My bedroom has been a major bore for years. Last week I 'fessed up and showed you the pitiful state of things in this…