Ever attended a Pampered Chef party in somebody's home? It's been years since I've been to one, but I still have several of their products. Most are gathering dust, but I couldn't live without this mini-spatula, of all things. Use it all the time.
Anyway, when I read that the company's founder Doris Christopher is reportedly selling her 12,000 square-foot house in Hinsdale, Illinois, I had to take a look!
The listing describes it as a "Magnificently renovated and expanded traditional 6 bedroom, 8 full/3 half bath stone home."
She bought the house in 2003 for $6.32 million.
Doris reportedly plans to downsize to a smaller place.
I like this sunny sitting room:
The house was built in 1956 but has clearly had a lot of updating done to it over the years.
Of course, the room I was most interested in seeing was her kitchen.
I kind of expected something larger and more extravagant from someone who has made a successful business out of kitchenware, didn't you?
You can cook here, too, if you can come up with $6.5 million.
For more photos and information about the house, check the listing by Daniel DeBoo of Koenig & Strey. Thanks to Mary of The Chair on the Lake for the scoop!
P.S. The pink mansion Mary Kay Ash used to live in went on the market this year, too.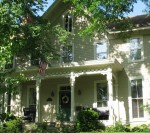 Better Homes and Gardens recently took a survey that I found interesting. They asked their readers all kinds of questions to find out what they…
If you've ever tried to sell a house, then you've probably had some issues with the potential buyers who walked through it. Maybe you found…