Every time NBC airs an episode of the Christina Applegate sitcom Up All Night, I get letters from readers asking where they can find the curtains in Ava's office. I can understand why. Maya Rudolph is pretty funny as talk-show host Ava, but I find myself distracted by the window treatments with the quatrefoil pattern whenever she's in her office. Then I try to figure out–are they black and white? Or a dark chocolate brown? (Still not sure. What do you think?)
Today I ran across some panels at Z Gallerie with the same quatrefoil pattern. Check 'em out:
They're "Mimosa Panels in Charcoal."
They also come in aquamarine:
Hard to beat the price. They're only $49.95 per panel. They used to have other colors, as well, like apple green and orchid, but they've been taken off the Z Gallerie website. (Boo!)
In my searches, I have found that the fabric is most often referred to as a Moroccan Quatrefoil Lattice pattern. I did find what appears to be the same fabric used for her curtains on pillows sold on Etsy, like this one you can buy from WillaSkyeHome:
No curtains yet, though. If anyone finds an exact match for them somewhere, let us know!
P.S. Do you watch the show? I think it's pretty funny and hope it gets renewed for a second season. I still miss Christina Applegate's other sitcom, Samantha Who? I wrote about the sets on that show here.
Also Searching for: Victoria's Chair and the Real Grayson Mansion from the TV Show Revenge.

If you lost both your business and your house and were struggling to make ends meet, how far would you go to regain some financial…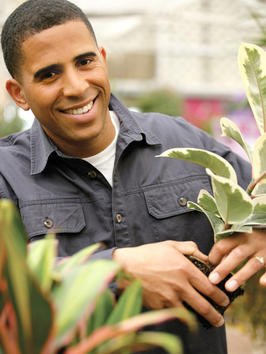 A couple of weeks ago I told you that Ahmed Hassan had been replaced by new host Matt Blashaw on Yard Crashers, the DIY Network…