Ever wanted to own a piece of history? Here's your chance! The historic 18th-century Bel Air estate in Woodbridge, Virginia, will be auctioned on April 18. It was built in 1740 on the site of a former frontier fort and has been beautifully preserved over the years.
It was home to George Washington's first biographer, Parson Weems, who made the cherry tree story famous. George and Martha Washington actually slept here during their honeymoon on their way to Mount Vernon, and Thomas Jefferson was once a guest, too. Take a look!
Restoration of the house began in 1949, and it was further updated in the 1990's with modern plumbing and electrical systems.
The sense of history has been preserved in the house over the years. It probably didn't look drastically different when the Washingtons were guests here.
The house has 5 bedrooms and 3 baths.
Bel Air is set on 25 private acres and has been recognized by the Virginia Historic Landmarks Commission.
It's also included in the U.S. Department of Interior's National Register of Historic Places.
Want it? The auction takes place on April 18. For more photos, floorplans, and information, go to Preservation Directory and Mouse on House. The contents of the property will be auctioned online at eBidLocal. Thanks to Elizabeth for telling me about it!

Hooked on Historic Houses?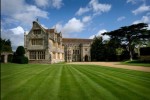 A reader named Andrea wrote me about her family's historic Tudor in England called Athelhampton House. Much of it has been standing for over 5…
Well, that didn't last long. Remember how I told you that Tori Spelling and Dean McDermott sold their big house in Encino and moved their…