Do you keep up with the Kardashians? I'm afraid I don't. So when readers started asking to see photos of where Khloe and her husband Lamar Odom are living in Texas, I had to do a little research to find out.
Lamar was recently traded by the Lakers to the Mavericks, and the couple moved into a luxury condo in the W Dallas Victory Hotel & Residences.
E! Online reports that they're renting the 2-bedroom condo for $7,500-a-month:
"Resident amenities in the building include a concierge service, two fitness centers, an infinity pool, a lap pool, a 5,000-square-foot Bliss spa, an entertainment lounge and an outpost of Top Chef judge Tom Colicchio's Craft restaurant."
Okay, I love Tom Colicchio. I've watched every season of Top Chef since it began. I'd be hanging out in his restaurant all the time in hopes of running into him… 😉
The new season of their reality TV show Khloe & Lamar recently premiered on E! Those of you who watch will have to tell us if they've shown the new condo yet.
In an interview Khloe talked about the move:
"Moving in general is stressful, so moving to a state that I've never been is stressful. Then when your husband's having a very emotional transition, that's like adding one more layer to this. Then I'm having the camera crew film and for them, they love it. They're like, 'This is gold!' I'm like, 'Can't you just leave us alone for one week?' But, you know, that's what you know we signed up for."
Out of all the celebrity houses I've featured over the years, do you know whose is the most searched for on my blog every month? It's the one that belongs to Khloe's sister, Kim Kardashian.
More photos and information about their place on Realtor.com. *2/14 UPDATE: They just sold their house in Tarzana, California, to Big Bang Theory's Kaley Cuoco. You can see photos of it here, as well as photos of Kourtney's house in Calabasas.
P.S. Visit my Celebrity Houses page to see more, including…
Kim Kardashian's New House
Lots of famous folks have been buying and selling real estate recently, including Justin Bieber, Elisabeth Hasselbeck, Anderson Cooper, Dick Clark, and Britney Spears. See…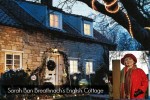 If you lived through the 1990s, then you probably remember Sarah Ban Breathnach's bestselling book with the pink cover called Simple Abundance. She now lives in…