Did you see last night's episode of the Julianna Margulies drama The Good Wife? I love that show–and her apartment on it, which I promise to feature soon. But in this episode, called "Long Way Home," Alicia's real estate agent tells her that the house they lost in the midst of her husband Peter's scandal is back on the market. She goes to see it during an Open House, so we get a glimpse of what her life used to be like.
Not only was it moving to watch her revisiting her past, but I loved the house and had to get some photos of it to show you.
She checks to see if the glass doorknob still falls off the door to the bedroom, and it does:
Chris Noth plays her ex-husband Peter Florrick, whose bad behavior with prostitutes while in office cost him his job, their marriage, and this house. I like Noth so much, though, that it's hard not to like his character anyway! Maybe I watched too many episodes of Sex and the City (he was "Mr. Big").
Would have loved to have seen more of the kitchen. We just get this glimpse:
Did anyone else tear up when she looked inside the pantry and found her family's growth chart still penciled on the wall?
I could see why her kids Grace and Zach were hoping she'd buy the house back. I was, too! I doubt the writers will take her there, though.
You can watch the episode on CBS.com if you missed it (the scene with the Open House is at the end). I'll be featuring Alicia's apartment on the show soon, too.
Have you ever had a chance to revisit one of your old houses? I check for mine at least once a month online just in case one of them might come back on the market!
On Mondays I Feature Houses from Movies and TV Shows: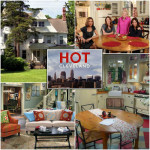 The TV Land sitcom Hot in Cleveland is about three women--played by Jane Leeves, Wendie Malick, and Valerie Bertinelli-- who relocate from L.A., moving into a…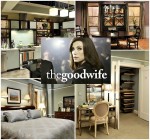 If you're not watching The Good Wife, then you're missing out on one of the best dramas on TV. Seriously. I was kind of put…