When I saw a WaterColor cottage for rent on Western Lake in Florida that's billed as "A new home designed after the house from the Diane Keaton movie Somethings Gotta Give," I was pretty excited to get a look at it. The listing goes as far as calling it "a replica" of the famous Hamptons beach house.
The exterior certainly doesn't look anything like the one from the movie, but I thought the interiors might look more familiar. See what you think.
I love this entry hall and staircase. Gorgeous!
In the movie, the staircase was off the living room. I can't tell by the listing photo if the living room is nearby or not. Here's the SGG version: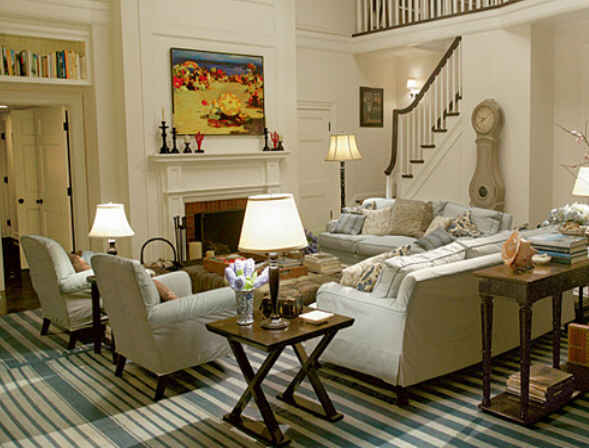 The living room in the listing is lovely, too, but very different. No blue striped rug in sight:
I'm not really seeing the resemblance to the Something's Gotta Give house, are you? Here's the kitchen in the cottage:
And the kitchen in the movie:
I like it, though. I wouldn't mind spending a week of my vacation here, that's for sure.
Diane Keaton's bedroom in the movie had an upholstered headboard and windows on either side of it, too: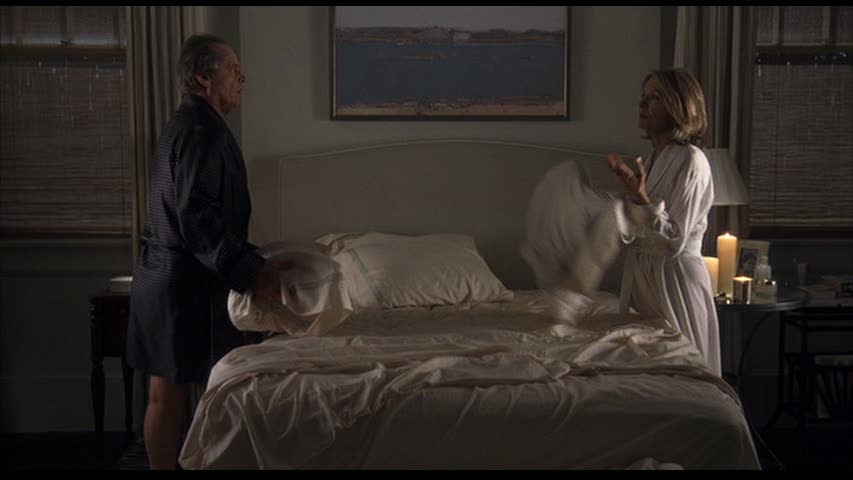 One of my favorite things that this one has that the SGG house didn't is this sleeping porch off the master bedroom:
Did I ever tell you it was our dream to build one of these off our bedroom, above our sunroom? Um, yeah. The quote for that came in much higher than we expected, so the sleeping porch was a no-go. I'd love to have one someday, though!
The front porches on the WaterColor cottage are pretty wonderful, too. I don't think a house can ever have too many porches.
So even though I'm not quite sure how this is really considered a "replica" of the Something's Gotta Give house, I think it's beautiful in its own right. And it's a brilliant marketing strategy for it. It got my attention! Now I'm daydreaming about taking my next family vacation here.
If you're daydreaming about it, too, you can see more photos and information at Vacation Rental Agent. Need a reminder of what the SGG house looks like? You can see all the photos of it here.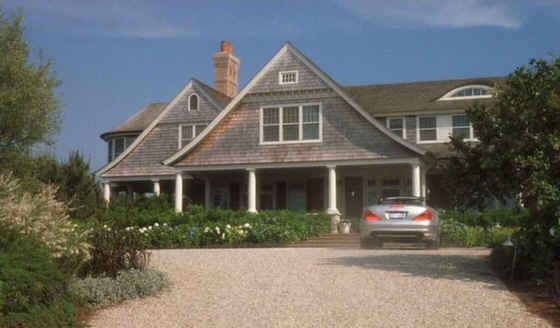 P.S. Check out this Something's Gotta Give House on Martha's Vineyard, which really does have an uncanny resemblance to the movie set, or the beautiful Something's Gotta Give replica in Sun Valley, Idaho!

(Visited 21 times, 2 visits today)