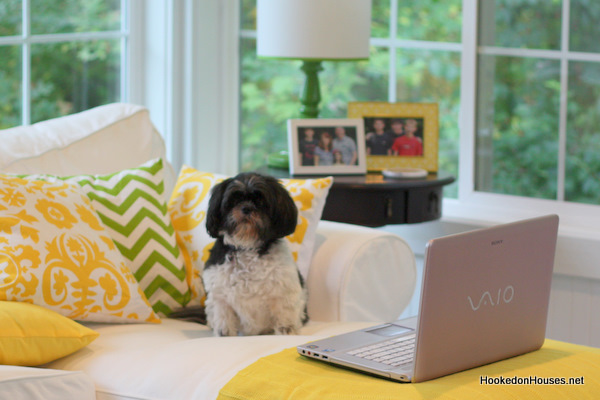 I left my laptop for a minute and came back to find Maizie had taken over.
After catching an episode of Oprah Behind the Scenes on OWN, I thought I should totally rip off her idea and write occasional "Julia Behind the Blog" types of posts. I always like to hear what's going on with the ones I read, and I figure there have to be other weird curious people out there like me, right?
Here are a few things that have been happening around here lately…
Hooked on Houses Gets Trademarked!
Way back in January, I read a cautionary tale on She Posts about why it's important to trademark the name of your blog, and it spurred me into action.
If I had been smart back in 2008 when I started this blog, I would have checked to see if the .com and the .net were being used before I ever chose the name for it. It wasn't until 6 months later that I started thinking about getting my own domain and thought I'd better buy it.
Bummer for me–hookedonhouses.com was already "parked" (registered but not being used). I tried to buy it, but the owner refused to sell it to me "for any amount of money." I bought the hookedonhouses.net domain instead.
It has always bugged me knowing that they could start a website on that domain at any time and I couldn't do anything about it. Imagine all the people who would search for "Hooked on Houses," only to be directed somewhere else! Not good.
So in February, I began filing the forms and jumping through all the hoops of applying for a trademark. Now, many months and hundreds of dollars later, "Hooked on Houses" is officially mine. No one else can use it. I did a "happy dance" last week when the certificate arrived in the mail!
Comments Closed?
If you've read through some of my older posts recently, you may have noticed that the comments were closed on them. Some of you have complained to me about that, and let me just say I'm as annoyed by the whole thing as you are.
See, a few weeks ago, my blog kept crashing. We spent days (and a few nights) trying to figure out what was wrong. I upgraded to a bigger, faster, more expensive server, but that didn't help. Upgraded it again to an even bigger, faster one.
Photo via One Man's Blog.
When it crashed again, we finally found the source of the problem: SPAM. My blog was getting over 20,000 spam comments every day. That's insane. My excellent spam catcher Akismet was stopping 99% of them, but it had its hands full processing every single one of them, which was occasionally bringing my blog to a halt.
The solution? I closed comments on posts older than 6 months, since spammers tend to hit those most often. I hated to do it, but now the blog is only getting 200 or so a day instead of 20,000, and things are running a lot more smoothly around here.
Subscribe by Email
In happier blog news, I get a lot of readers asking how to subscribe to my blog via email so you can get the posts delivered directly to your inbox each day.
Well, your wish is my command. Now you'll find the form to subscribe on my About Julia page, or simply click the RSS icon in my sidebar and choose the email option.
Ready for Halloween!
For those of you who have asked what Lily is going to be for Halloween, here's your answer: a "Caterina." It's like a cat who's a ballerina, I guess. Here's how she looked dressed up for a costume party at her friend's house last week:
My son is way too cool to dress up anymore (*sniff*), but we got a butterfly costume for our Shih-Tzu Maizie to wear. She didn't like it, though–she kept trying to shake it off. So we took pity on her and got a jack-o-lantern t-shirt instead that she likes much better.
Sadly, these are the best photos we got of her wearing it. We'll have to try again on Halloween! It's hard to get good ones of her in general. Her brown eyes either disappear into her black fur or they glow. She's so much cuter in real life. 🙂
Top 20
At the end of each month I update my Top 20 page to show you which posts were the most popular. Do you recognize this house, which more people searched for this month than any other?
I also update my Celebrity Houses and TV/Movie Houses pages each month to show which ones are the most popular with readers, and they're not always the ones I'd expect!
Over 20 Million Served
I have to say I was kind of gobsmacked to realize that my blog passed the 22 million mark for page views recently. That's more than I can even wrap my head around. Wow.
So I just wanted to take a minute to say a big THANK YOU to all of my loyal readers who keep coming back, day after day. I don't take a single one of you for granted! -Julia
(Visited 1 times, 1 visits today)