This photo was posted on the Realtor.com blog under the headline, "Cutest Real Estate Listing Photo Ever." It got my attention, and after I saw that fabulous laundry room the pup was sitting in (with wrapping station!), I had to see the rest of the house.
The listing describes it as a "Hamptons-style shingle home" for sale in Franklin Lakes Boro, New Jersey. Asking price is $5.5 million. Take a look!
The exterior reminds me of the one in Something's Gotta Give, one of my all-time faves. Did you know more people search for photos of that house on my blog every day than any of the other dozens of movie houses I've featured?
The house has a whopping 13,000 square feet.
Whenever I see chandeliers like this one over the kitchen table, I think of the blue version in Sarah Jessica Parker's Hamptons house. Her dining room photo in Elle Decor was the first place I saw one years ago. Oh, and there's one in The Proposal's Alaskan kitchen, too, you may remember.
There are 6 bedrooms and 7 baths.
The master bedroom and bath look like they belong in like a high-end hotel.
I like this sweet girls' bedroom with the deep windowseat alcove and the built-in bookshelves.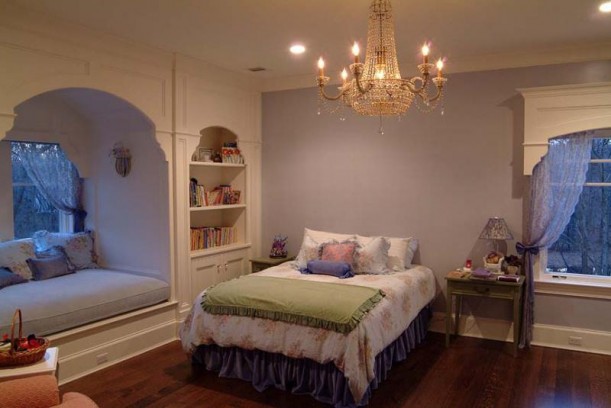 I was watching "Love It or List It" last week and the house-hunting couple refused to buy a place that had a similar windowseat because they're "bad feng-shui." Bad feng-shui or not, I love 'em. And this one looks big enough to sleep on–perfect for sleepovers!
The house sits on nearly 2 acres.
Would a cute pup in a real estate listing grab your attention? One listing agent commented that he has homebuyers who won't even look at a house if they know a dog lives there. Are you one of them?
For more photos and information, check the Sotheby's listing by Mary Premtaj. (Thanks to Brandon for the link!)

On Sundays I feature interesting houses for sale like:
(Visited 12 times, 1 visits today)