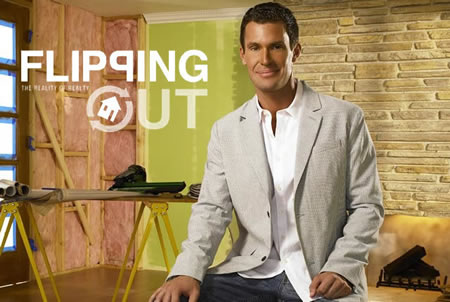 Did you catch the season finale of Bravo's popular reality series "Flipping Out"? It was a good one. Jeff Lewis found out that his old house on Gramercy Place–which he sold in 2006–was back on the market. He had never forgotten the house that "felt like my soul mate," so he bought it back.
I can see why he was reluctant to sell it in the first place. It's a beautiful Wallace Neff-designed house on a hill overlooking downtown LA and the ocean. I tracked down some photos. Want to see?
Looking up at the Gramercy property from the street below: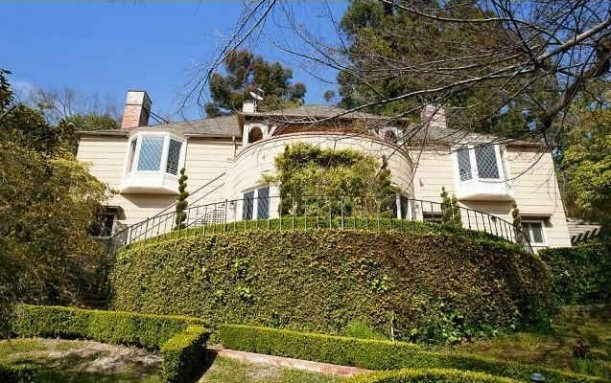 He sold this house before he began shooting "Flipping Out," so it isn't one of the properties we've seen during the 5 seasons it's been on.
When he heard that the house had been foreclosed on and was sitting empty, he wanted to see it again.
If that's the front entry, it seems a little awkward with the steps right there. Love this dining room with the curved walls:
Jeff, his long-suffering assistant Jenni Pulos, and his real estate agent (who also happens to be his sister-in-law) try out the big windowseat in the living room while touring the house:
Jeff realized he still loved the house and that "It needs me," so made an offer.
This living room looks huge. And it probably is. The house is about 3,700 square feet.
Based on the previews I've seen for tonight's reunion show, it looks like it was taped in Gramercy: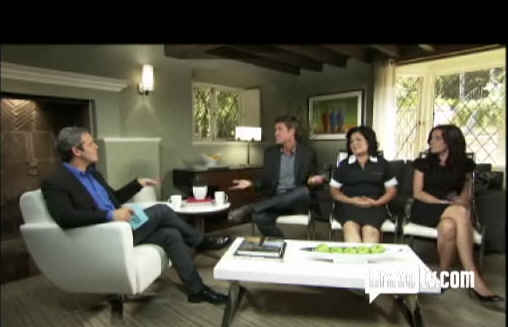 It'll be interesting to see how Jeff decorated it. It's a much more traditional house than you usually associate with him.
The kitchen, which Jeff remodeled himself 6 years ago:
The kitchen set-up looks a little strange from this angle. That column is in a bad spot if you want a table or bar stools or something on the other side of the island.

What did you think of this season of the show? Seemed like he was either firing someone or threatening to fire someone in every episode, even though he had more design work than he could handle by himself.
Thank goodness he didn't fire Zoila, at least. Love her. I need a Zoila in my life.
Upon seeing this blue room, Jeff remarked that they would need to do some repainting, "Obviously."
The house has 3 bedrooms and 3 baths.
And there's a pool in back:
Jeff sold the house on Gramercy for about $2.7 million back in 2006. He says it was an offer he couldn't refuse. He reportedly bought it back for about $1.6–a pretty sweet deal for him, even though it had been neglected and needed some work. Now I'm holding out hope for a Season 6 of "Flipping Out" so we can see this house come back to life!
More photos and information about it on Redfin, which still has the listing up up (for now).
More Jeff Lewis Posts:
(Visited 13 times, 1 visits today)