The 2010 romantic comedy The Back-up Plan starring Jennifer Lopez and Alex O'Loughlin didn't get great reviews, but a lot of my readers gave the set design two thumbs up. I finally had a chance to watch the movie myself this weekend and get some photos of Zoe's apartment in New York City for you.
First off, does the front of her brownstone look familiar?
According to On the Set New York, it's only two doors down from Carrie Bradshaw's apartment in "Sex and the City" (70 Perry Street and Bleecker Street in Manhattan).
The real interiors of this apartment weren't used for the movie, though–they were created at Warner Bros. studios in California.
The Production Designer for this movie was Alec Hammond, and the Set Decorator was Kathy Lucas. Interestingly, the project Lucas worked on before this one was The Ugly Truth.
It was great seeing Linda Lavin as Lopez's "Nana" in this movie. I grew up watching reruns of her sitcom "Alice" that seemed to play on an endless loop in the afternoons ("Kiss my grits!"). Tom Bosley played Lavin's boyfriend in the movie. This was his final role before his death last year at the age of 83.
When the camera pans up the exterior of the brownstone and looks through a window, we can see the sofa in Zoe's living room:
The Back-up Plan was supposed to be Jennifer Lopez's "movie comeback." Her last one had been El cantante in 2006 with husband Marc Anthony (the couple recently announced their split). She had taken time off to be with her twins Max and Emme (you can see their nursery here).
In this shot of Zoe sitting in her dining room, you can see that it opens into her bedroom without any doors between the two (a reader points out that there were probably pocket doors that were just not used):
A quick shot of the fireplace in the dining room:
The kitchen seems pretty big for a city apartment. One thing I learned from this movie is that there must be a lot money in running an "ethical pet store" like Zoe does. 😉
Did you know Alex O'Loughlin is Australian? One of his first roles was as part of the "kissing couple" (that's how he was billed) in The Holiday. Now he plays Steve McGarrett in the new version of "Hawaii Five-O."
Zoe's bathroom has blue and red tile:
Her bedroom has an upholstered headboard that I've gotten a lot of emails about–everyone seems to love it and want one just like it:
UPDATE: A reader found the bed at Mitchell Gold + Bob Williams. It's called the Celina bed (thanks, Katy!):
At the end of the movie, we get a glimpse into a room off the dining room that I don't think we'd seen before, which has now become a nursery for the twins:
Check out Jennifer Lopez's new house in California, where she moved after taking the job on "American Idol" last year.
It had been years since I saw the 1992 movie A League of Their Own, about the first professional women's baseball league in the U.S.…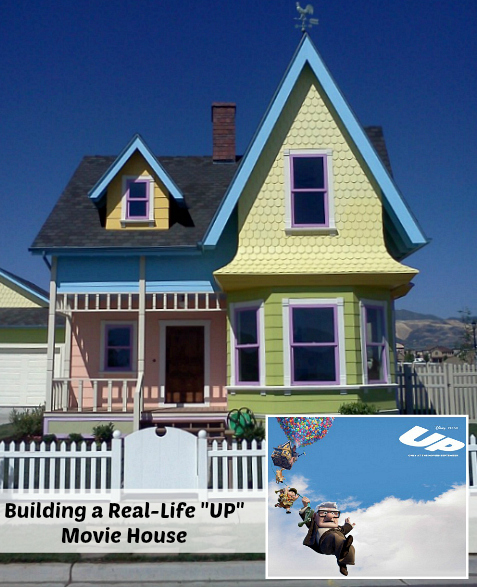 Last month when I told you about the real-life "Up" house that Bangerter builders created in Utah, the interiors weren't finished yet. I asked if…