Jerry Seinfeld's Colorado home is for sale for $18.25 million: Trulia.
A beautiful Nantucket summer house restored by Nancy Fishelson: Cote de Texas.
The blueprints to some of our favorite TV houses: The Nesting Game.
The Novogratzes dish about their new show on HGTV (can't wait!): CasaSugar.

This brass "flower wall art" is funky and fun: Greige.

This aluminum "tuffet"-slash-coffee table is pretty cool, too: My Sparrow.
A gallery of kitchen remodeling photos and ideas: CalFinder.
How much would it cost to build a sunroom in your city? Fixr.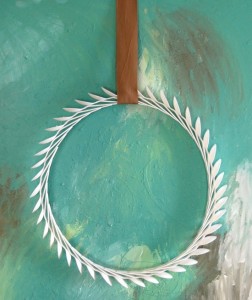 How to make a laurel wreath out of…plastic spoons? Yep! Nesting Place.
An unusual approach to selling property in a run-down neighborhood: Daily Mail.
Most-searched-for celebrity house this week: Jennifer Aniston's, which just sold.
Have a wonderful weekend, everybody! 🙂

Here are a few things that caught my eye in my sponsors' shops this week... #1: Totally smitten with this "Toulouse" chandelier from La Caze.…
Goldie Hawn lists her long-time Malibu beach house: Pics. Kinda surprising b/c her daughter just bought one nearby: Kate Hudson's Tudor. Jennifer Lopez and Marc…