At the beginning of the drive to Katharine Hepburn's property in Old Saybrook, Connecticut, she famously posted a hand-painted sign politely requesting potential lookiloos to "Please Go Away." If that wasn't enough to convince them, a "Keep Out" sign was tacked below it. Gotta love it, especially when she posed next to them with flowers and a big grin on her face.
The film legend died at the age of 96 in 2003; her house sold a year later to Barbara and Frank Sciame for $6 million. They renovated it and just put it back on the market for $28m.
How the house looked when they bought it in 2004:
How the house looks today, after extensive renovations:
The waterfront estate had been in the Hepburn family since 1913.
The front of the house, facing the drive:
The house was built in the late '30s and Katharine did little to update it over the years. The new owners updated it so much that it looks like it could be a brand new house.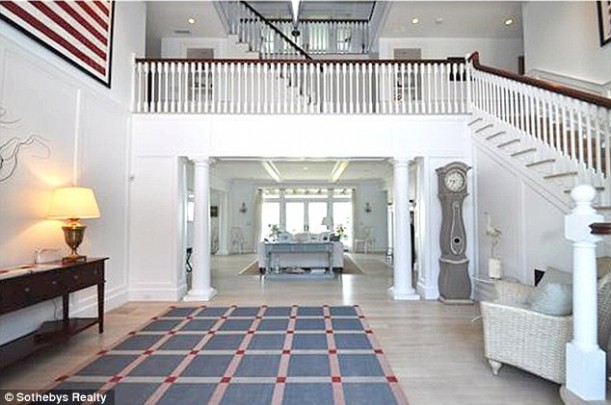 The Sciames bought the property as an investment but they say they fell in love with the house and spent summers here.
According to the listing, the property has its own private dock and beach, with "a pond opposite side securing privacy."
Vintage photo of Hepburn working in the original kitchen:
The remodeled kitchen today:
The Butler's Pantry:
Eating area off the kitchen:
The upstairs landing:
In this bedroom, it's all about the view: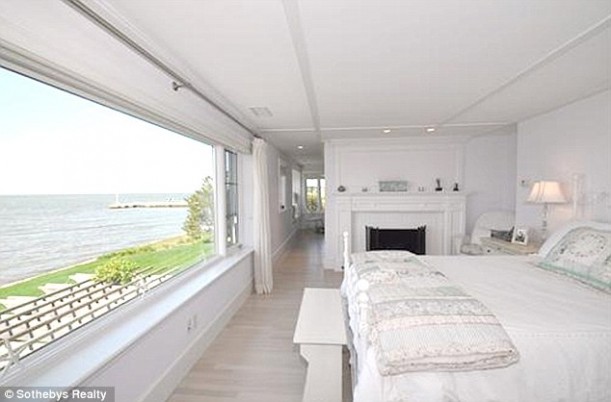 The house has 6 bedrooms and 7.5 baths.
A balcony overlooking the water:
The house has over 8,000 square feet.
Note the books on the coffee table about the original homeowner:
Screened porch:
Seeing these photos made me think of the beautiful property that filled in for the Hepburn Estate in the Leonardo DiCaprio movie The Aviator, filmed in Saint-Hubert, Québec: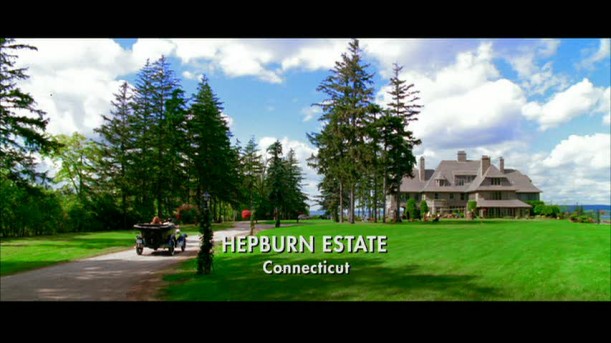 The house that Hepburn and Howard Hughes would have visited in real life predated the one standing now. Sadly, a hurricane destroyed the original house shortly after the pair broke up in 1938. It floated away in the water while the Hepburn family watched it from higher ground.
They rebuilt this house in the same spot, but higher off the ground. (Source.)
Are you a Hepburn fan, too? You can read more about her house at The Daily Mail and take the video tour here (I took some of these screenshots from it).

*UPDATE*
Kate Hudson, who's engaged to Muse frontman Matthew Bellamy and expecting a baby with him, just bought the historic 1935 Tudor Revival next door to…
Katie Couric, who just left her post as anchor of the CBS Evening News, prettied up her Hamptons house with some help from her sister…