Candy Spelling–widow of TV titan Aaron Spelling and mother of Tori–has been trying to sell her famous 57,000 square-foot mansion in Los Angeles, known as "The Manor," for years (I first wrote about it in early 2009 when the listing became public).
She refused to budge on her asking price of $150 million, which seemed a little crazy when house prices were falling all around her, but her persistence has apparently paid off. The 22-year old U.K. heiress Petra Ecclestone has reportedly decided to buy the Manor with its (in)famous gift-wrapping room and doll museum.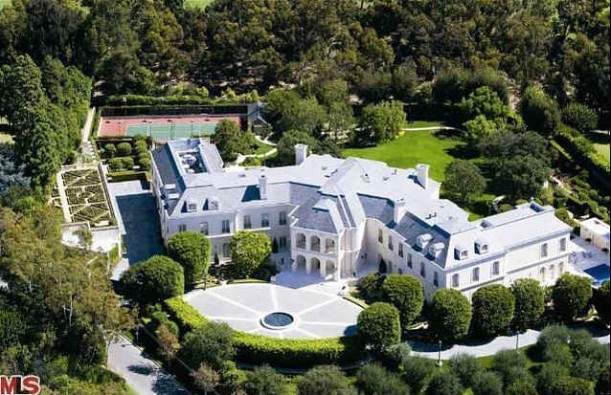 The whole place is just so freakin' big, I can't imagine living in it. Candy admitted in one interview that even she wasn't sure how many bathrooms it has–23? Maybe 26? Something like that.
In this video tour, Candy admits that the house got so big because she didn't understand the scale of blueprints and thought the original room sizes looked "too small" on paper. She says that Aaron put his foot down and nixed the plans for another huge wing that was going to be built on, or this place would've been even bigger.
I think what surprises me most about this is that I can't imagine a young woman living in this mansion. It looks like an older person's house to me. Can you picture 22-year old Petra…
…hanging out in this living room?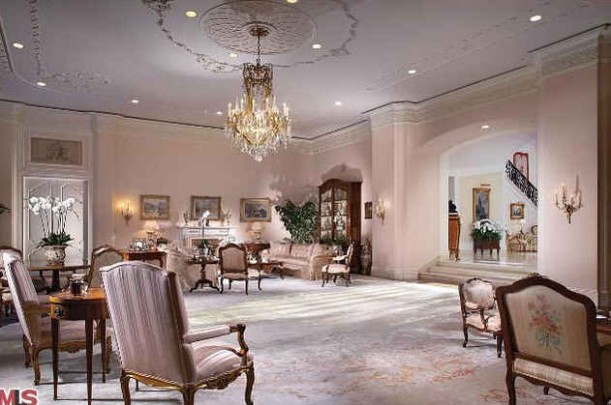 I can't. I predict a lot of redecorating in this home's future. She getting married in August and will be splitting her time between L.A. and London.
Here's a shot of the famous doll room (taken from this video tour):
And Candy Spelling showing a reporter the breakfast room with the wallpaper and matching upholstery that makes me dizzy:
The house also comes with 3 kitchens, 2 swimming pools, a bowling alley, beauty salon, and parking for 100 cars. The garages should come in handy considering Petra's dad is British billionaire and Formula One racing boss Bernie Ecclestone.
Candy and her daughter Tori had a falling out after Aaron's death but have reportedly repaired their relationship. Did you know Tori has a new website with a section devoted to her love of decorating? It's called EdiTORIal.
Tori is trying to sell some real estate of her own. The house she shares with hubby Dean McDermott and their kids in Encino is on the market.
It's a much more modest abode than Candy's, with an asking price of $3.1 million. You can see photos of Tori's family-friendly home here.
For more information about the sale of the house, go to WSJ. To see my original post about this house with the video tour, click here.
Click Here to See More Crazy-Big Houses!
(Visited 15 times, 1 visits today)