Did you happen to see Rob Lowe on "Oprah" last week, talking about his new autobiography, The Stories I Only Tell My Friends? I tuned in because I'm reading the book right now and was interested in what he had to say about it.
I was excited when he gave a tour of both his main home in Santa Barbara (which has been featured in Architectural Digest) and their cozy beach house, which is only 18 feet wide.
For those of you who missed it, here are a few screenshots I took during the show:
He says things are kept very casual in the beach house because they have kids and dogs and there's always sand on the floor.
He worked on his book in this room, writing it all out by hand:
In the master bedroom, Rob says, the sound of the ocean outside their window at night puts them right to sleep: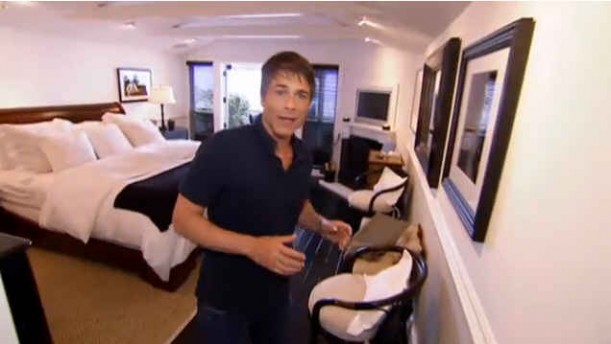 As nice as their main house is, I'd take this cozy beach house any day. Love it! You can watch the video tour on Oprah.com.
P.S. Visit Celebrity Houses to see more!
(Visited 14 times, 1 visits today)