I have a thing for old stone houses, so when I saw this one for sale in New Hope, Pennsylvania, my heart skipped a beat. It was built in 1718, which makes it one of the oldest houses in the area. I'd love to see the right person buy it and do this historic home justice.
It's listed at $595,000.
The living room has beamed ceilings, a stone fireplace, and a spiral staircase.
The homeowners seem to really like this color and have it throughout the house, starting with the front door:
There's a (kind of regrettable) frame addition stuck onto the back that needs an overhaul–especially the dated kitchen (unlike the original part of the house, it's dated in the wrong way):
But I love the original house and details like this door leading to the hidden staircase:
And the bedroom, which has its own stone fireplace:
The house is only about 1,600 square feet, but it sits on over 2 acres and includes a separate building that can be used as a studio or office. It also has a creek with a little bridge that leads to a gazebo.
If you bought this nearly 300-year old house, what would you do with it?
For more information and photos, check the listing. Seen a beautiful or interesting house for sale that I should feature on Sunday Open House? Send it to me!
Click Here to See More Sunday Open Houses I Featured, Like a Reader's Dream Home in Encino and a Storybook House in Santa Ana!
Be still, my heart. I'm head over heels in love with this traditional white house for sale on Camden's inner harbor in Maine. It was built…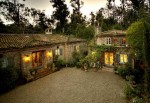 Designer Penelope Bianchi has listed her "Provençal farmhouse" in Santa Barbara for $5.95 million. When I stumbled across it in the real estate listings, I…