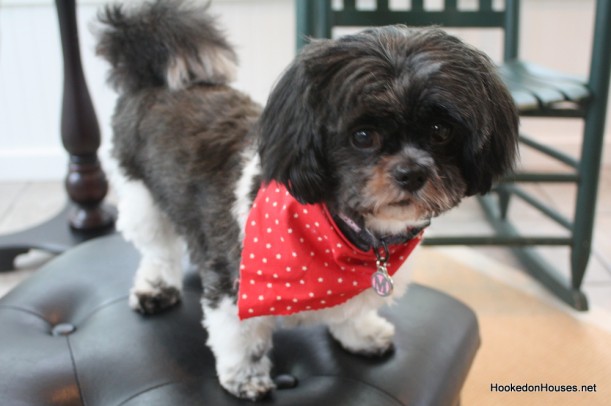 So many of you have asked how our little Shih Tzu Maizie has been doing since we adopted her in January that I thought I'd give you an update. She was underweight and recovering from surgery when we got her. She had been dumped, starving and with a broken jaw, outside a local animal shelter. (You can read the whole story here if you missed it.)
For the first 6 weeks that we had her, Maizie's jaw was wired. At the end of February she had another surgery to remove it. Everything went well, and after her stitches were out we were given the go-ahead to finally get her properly bathed and groomed. As you can see from this photo, she's looking pretty spiffy now (the groomer put that jaunty red bandanna around her neck)! 🙂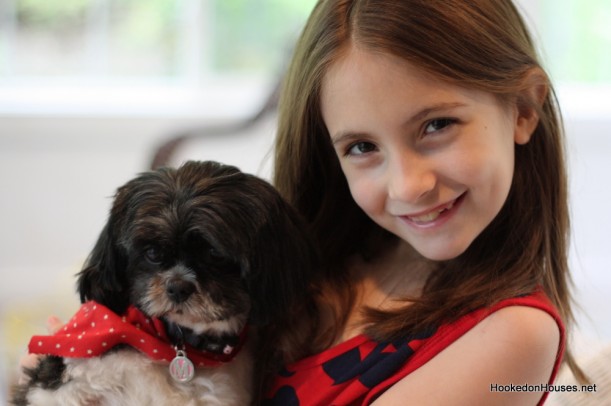 Some things have been a challenge because they were new to her, like walking on a leash (she frequently locks her little legs and won't move, and even when she does walk, she won't go far). We're still having the occasional accident in the house when I don't pick up on her "I need to go out" signal right away. She also has some difficulty eating because the vet had to remove so many of her teeth, poor pup.
But she's come such a long way that we don't like to dwell on her shortcomings. She can now go up and down the stairs on her own. At this week's vet visit, she had gained some much-needed weight (she's up to a whopping 8.5 lbs!). My daughter Lily even taught Maizie some simple commands, like sit, dance, lie down, and stay. I took a short video for you so you can see her in action!
Many thanks to everyone who has asked about Maizie and cared so much about how she's doing. It's crazy how in love we are with this dog after only a few months! She's brought a lot of joy into our home, that's for sure. You can see my original post with photos of how she looked when we adopted her here.
(Visited 2 times, 1 visits today)