Today we're taking a tour of the $12.9 million Rancho Alegre that sits on 175 acres of Southwestern ranchland in Santa Fe, New Mexico. It was designed by the renowned architect William F. Tull and featured in the June '08 issue of Architectural Digest.
Besides the 13,000 square-foot main house, the property also comes with a four-bedroom guest house, caretaker's quarters, carriage house, and equestrian facilities that include 12 horse stalls and a large riding arena.
A stone tower marks the entrance to the compound: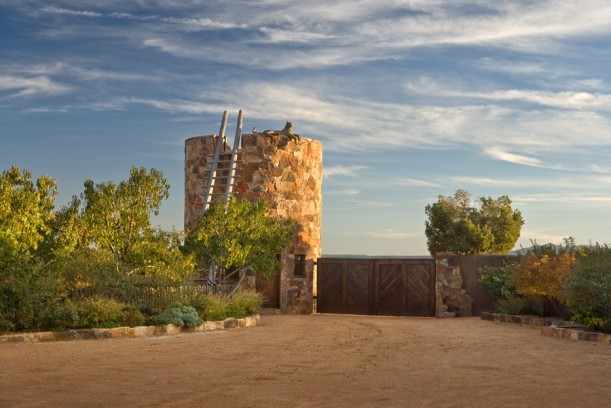 The kitchen features a commerical Viking range, two Sub-Zero refrigerators with cabinet fronts, two dishwashers, three pantries, travertine countertops, and a copper range hood:
The lighted niches are a Tull signature:
"Western history—that's the stuff my dad loved," says Kammerer's son, Rudy. Paintings by Roy Anderson and saddles by Edward H. Bohlin are displayed in the Saddle Room:
Cowboy chaps dating to the early 1900s decorate the walls of the office:
Just as I was thinking that some of the rooms looked like they could be part of a museum, I got to this photo:
I found this explanation for the room in the AD article:
Replicas of Plains Indian chiefs' clothing are displayed in the conference room. Cathy A. Smith, who designed the costumes for Dances with Wolves, spent three years creating the collection, says Kammerer. "Every detail is authentic."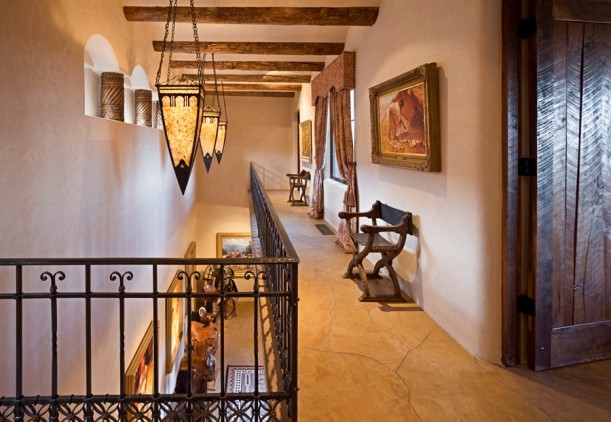 The house even comes with its own Cantina:
There are 13 bedrooms in the house, and 11 full baths.
The master bath is like a work of art. Stonemason John Morris modeled the space after the pueblos at Chaco Canyon.
The 20'x15′ shower features a cascading "water wall" that incorporates a sculpture by artist Michael Naranjo.
But that's not all! There's also a tile-lined Roman tub, and a romantic corner kiva wood-burning fireplace.
For more photos and information, check the Sotheby's listing. It was featured in Architectural Digest in 2008, and I believe many of these photos were originally published there (photographer Robert Reck).

(Visited 26 times, 1 visits today)