"Real Housewives" star Lisa Vanderpump brought some humor and fun to Bravo-TV's popular reality series earlier this year, which revolved around the endless cat-fights among a group of wealthy women in Beverly Hills. The women on the RHOBH had some seriously big houses, and Lisa's was no exception.
Now that their children Max and Pandora are grown and their famous houseguest Cedric has been kicked to the curb, Lisa says their 15,000 square-foot mansion is feeling a little too big for just her, husband Ken, and their and their 4-pound pup Giggy (pronounced Jiggy). So maybe, just maybe, they'll sell it…assuming that the right buyer comes along, pushing a few wheelbarrows full of cash.
Vanderpump insists it isn't really for sale, despite the fact that it popped up on a real estate website that belongs to RHOBH co-star Kyle's hunky husband Mauricio. She says it's "just a pocket listing" to see if there's anyone would be interested in paying $29 million for her 7 bedroom, 10 bathroom estate.
I'm just happy to get a closer look at her house, which always looks so glam on TV. It's the kind of place where you can wear high heels all day like Lisa does and feel right at home…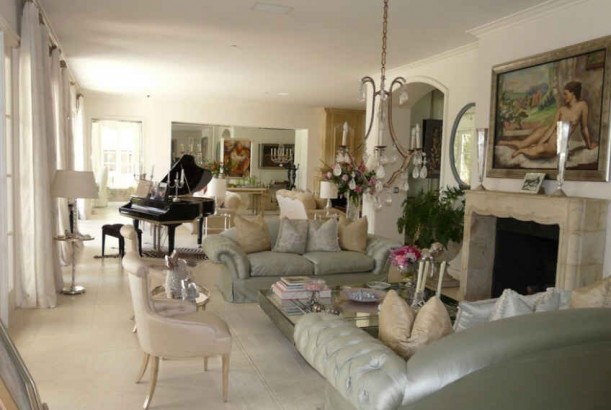 I'm not sure these photos do much for the house, especially considering its hefty price tag. Why is there an old towel thrown over the bench here? All I can figure is that maybe it's a place where Giggy likes to sit: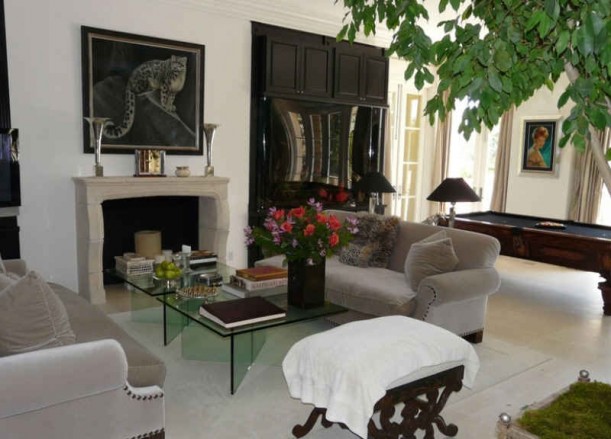 Lisa and Ken are Brits who moved to California to open some posh restaurants there about 5 years ago, so you expect their kitchen to be nice. I'm surprised it's not a little bigger, considering the size of the house and their passion for food: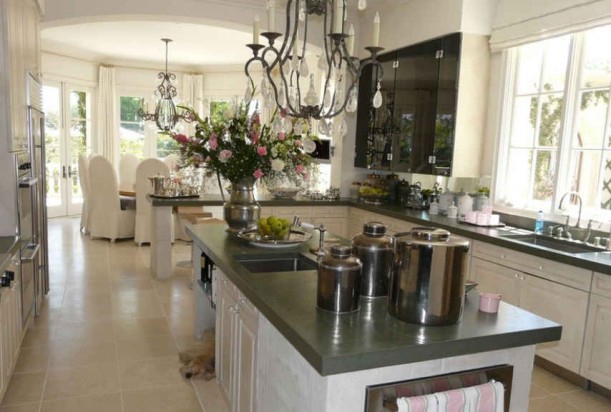 I really can't handle this black billiards room with the purple table:
The master suite alone, which is one of the areas of the house we saw the most of on the show, is 2,500 square feet. My family of four could live comfortably in that much space!
Everything in the master bedroom and bath is white and pale pink, including the cabinets: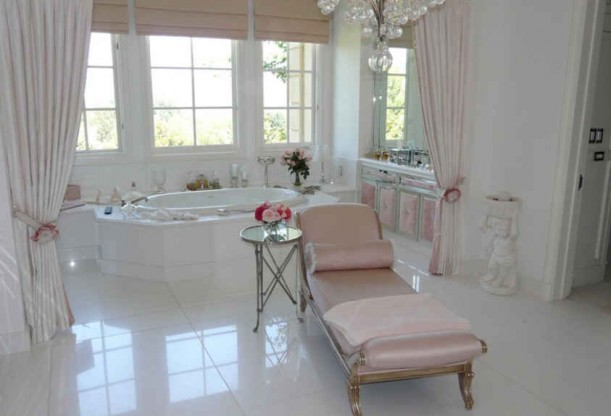 Lisa's closet is huge. She says all of her clothes are black, white, pink or blue: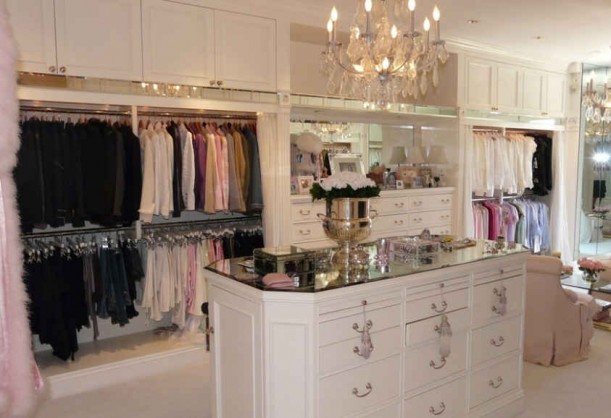 Some of the scenes on the show have played out on this covered porch:
Giggy is known to hang out there, too:

How cute is he? He's so popular now that he has his own fan site on Facebook (you can "like" him here).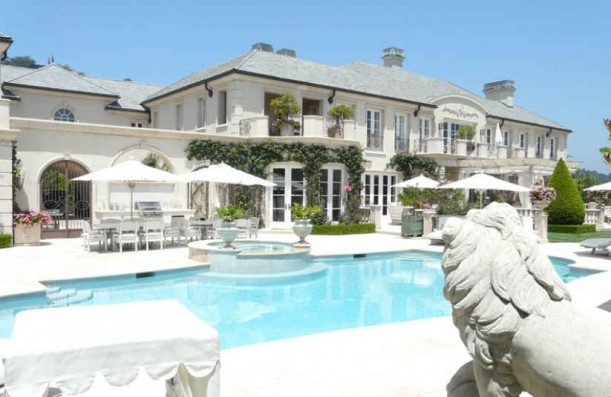 You can see all the photos of Lisa Vanderpump's place on Mauricio Umansky's real estate website, or watch this video tour of the house hosted by Lisa herself (with thanks to Ramon for the link!):
P.S. Visit Celebrity Houses to see more, including…
(Visited 38 times, 11 visits today)