The Emmy award-winning sitcom Modern Family is about an unconventional extended family in California, filmed mockumentary-style. Not only is it funny, must-see TV, but the houses of the three families that it follows are all fun to look at. Let's take a closer look at them, starting with Phil and Claire's house.

Phil & Claire Dunphy's House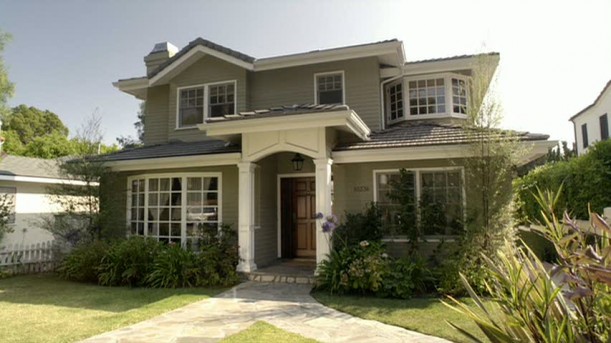 Phil and Claire Dunphy live in the suburbs with their three kids, Haley, Alex, and Luke. Phil is a real estate agent, so we get to see other houses he's showing from time to time.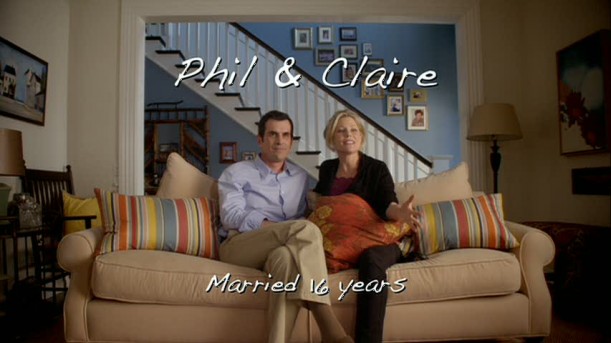 The staircase wall behind them is painted in Benjamin Moore's Labrador Blue: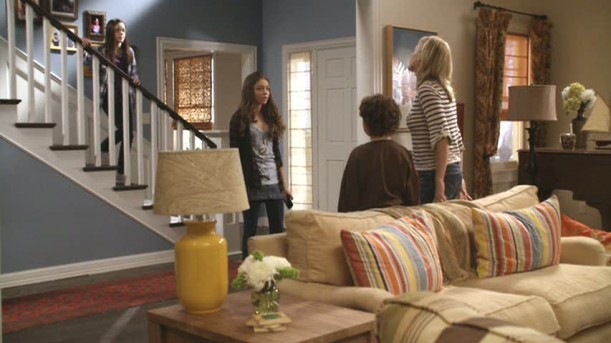 Although they play siblings of different ages, and Alex is supposedly several years older than Luke, they are the same age in real life. They were both born in 1998, but while Ariel Winter, who plays the smart older sister Alex, is a 7th grader, Nolan Gould, who plays the not-so-bright Luke, is a 9th grader and a member of Mensa.
(Rico Rodriguez, who plays Gloria's son and Jay's stepson Manny–is 13, too. Sarah Hyland, on the other hand, is supposed to be 16 on the show but is 20.)
The Dunphy Kitchen: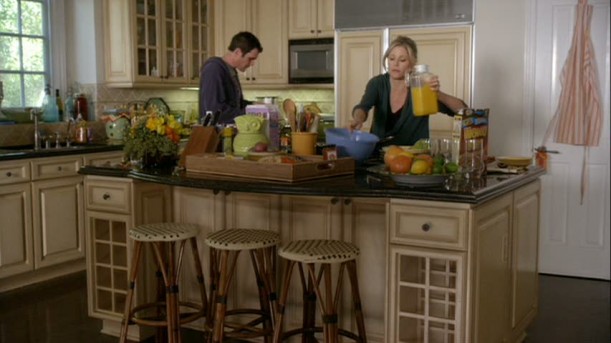 "The kitchen is now truly the center of the house," series creator Steve Levitan says. "We couldn't do a show called 'Modern Family' if we didn't see the kitchen as part of the dining and family room in one flowing space."
The kitchen chairs changed from the time that photo of the set was taken (above) and this episode was filmed (below). I love the colorful plates and artwork on the wall of their kitchen.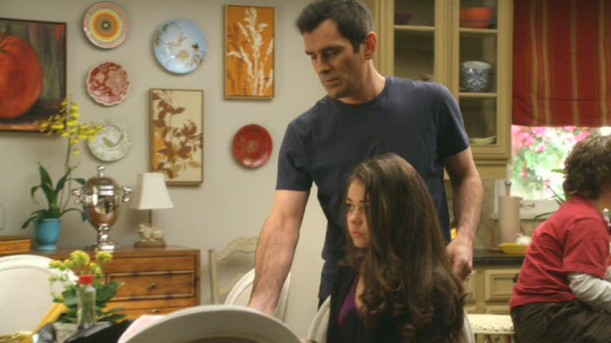 The original title of the show was "My American Family," and the concept was that they'd be followed around by a fictitious Dutch filmmaker named Geert Floortje. His backstory was going to be that he had lived with Jay's family as a teenage exchange student and had a crush on Claire.
The Great Room: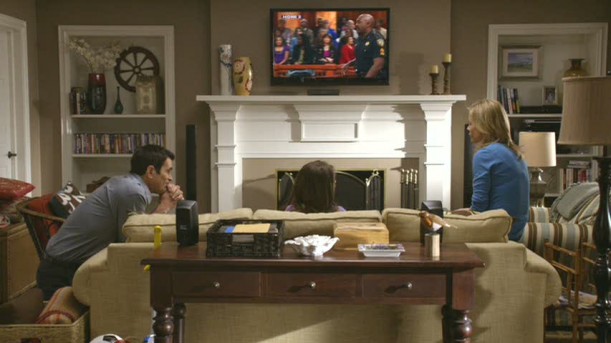 Production Designer Richard Berg describes it as "Pottery Barn-Restoration Hardware traditional modern."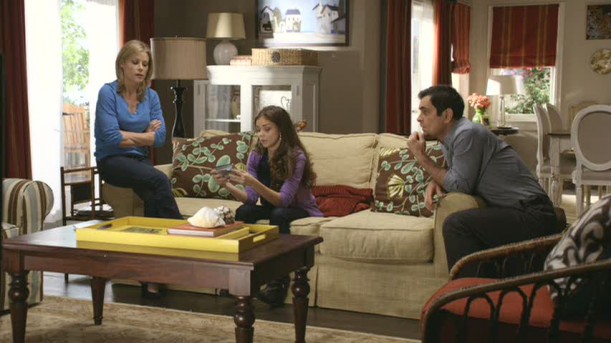 Cameron and Mitchell's Duplex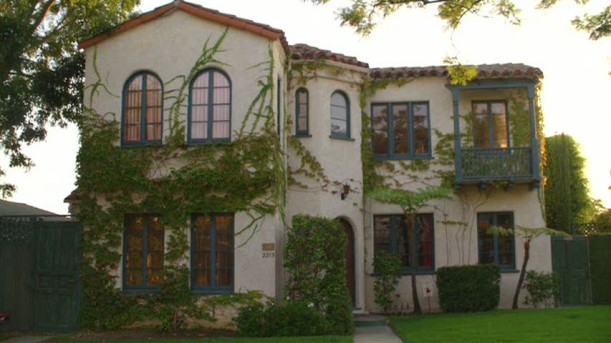 A reader named Neal wrote in to say that this is his house: "My house is a Spanish style SFR built in 1929 near Fox Studios where the show is actually filmed and virtually all interior scenes are done at Fox for all 3 houses. They do use my house for the exterior shots."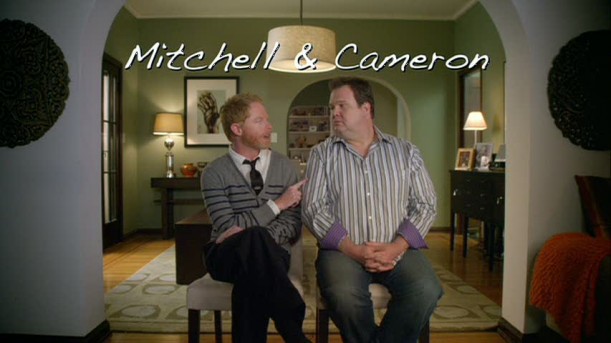 They wanted it to look like the kind of home you'd find in the Hancock Park area, production designer Berg says, so they added details like tiled kitchen countertops, arched doorways, and crown molding. I love that they have a swinging door in the kitchen, too.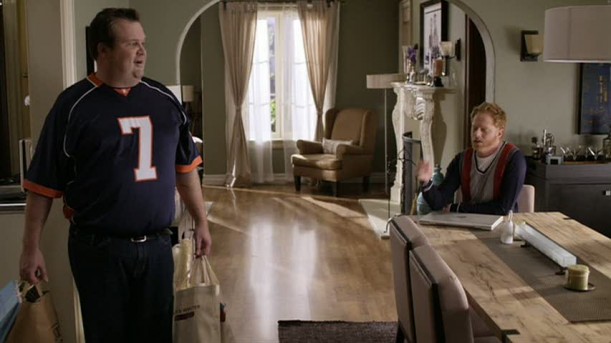 The main rooms are painted in Benjamin Moore's Louisburg Green. The house is a mix of traditional, contemporary, and Asian design. Eric Stonestreet, who plays Cameron says, "We like to joke that they went to Asia to get a baby that would match their décor."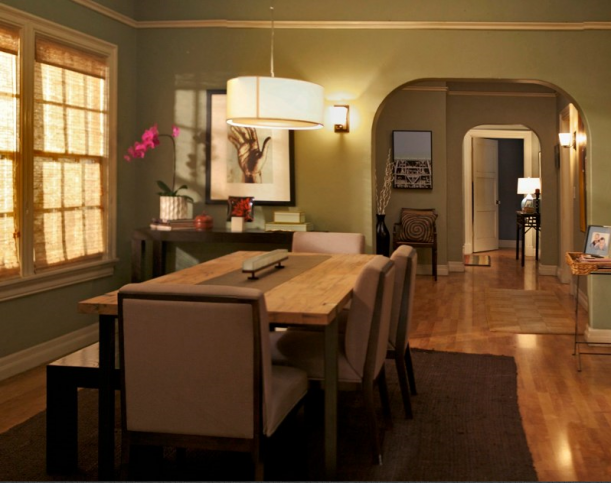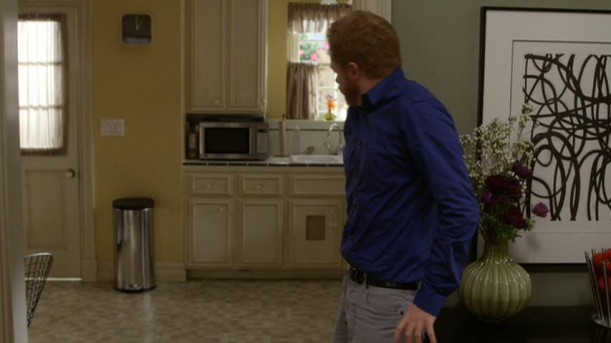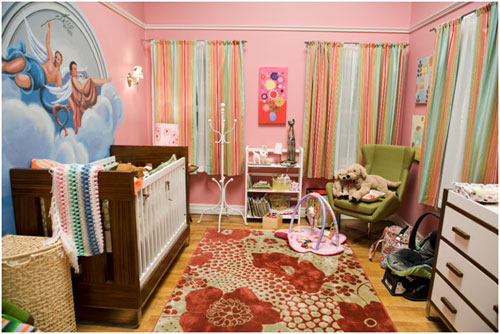 Here's a closer look at that funny-scary mural over the crib–you can see the faces were painted to look like Mitchell and Cam's. If I remember correctly, it was painted for them by an artist friend of theirs as a baby gift: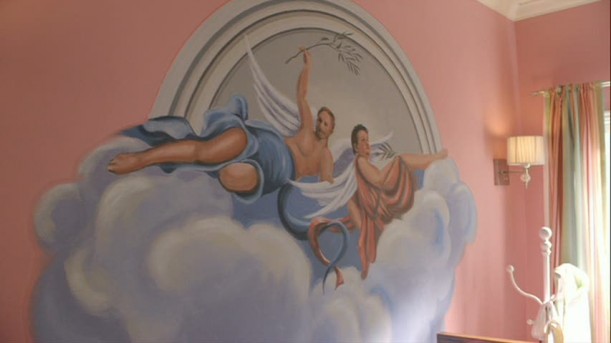 Jay and Gloria's House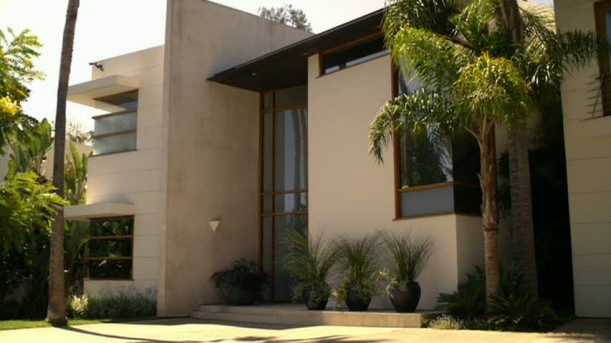 Series co-creator Steve Levitan says they didn't have to look far to find the perfect house for family patriarch Jay and his new wife Gloria to live in because it's right down the street from his own home: "I would drive past it every day, and it looked like the modern house that so many rich divorced older guys seem to end up in."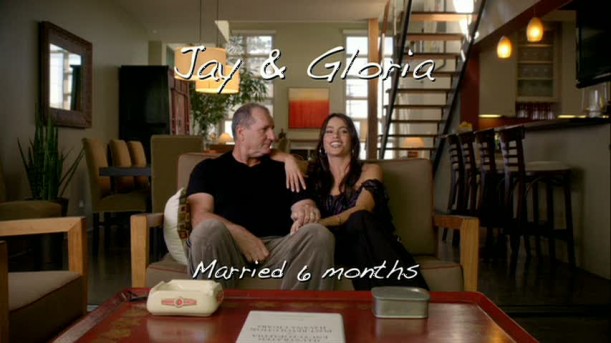 The front door has a distinctive and unusual look with its abstract geometric mosaic of windows and a handle that is off center and diagonal: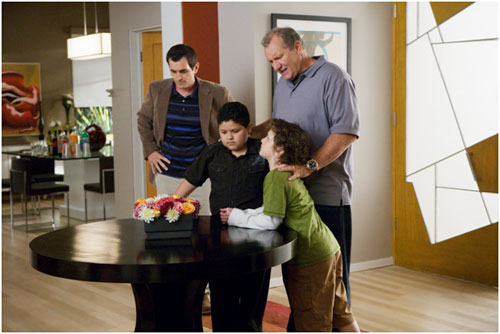 That red wall in the entry is painted in Benjamin Moore's Currant. Production Designer Richard Berg says the concept was that the house was white on white when Jay was living alone as a bachelor, but his new wife brought in the animal prints and vibrant colors when she moved in.
I loved this episode when Gloria (Sophia Vergara) got so fed up with the "dog butler" Jay had at the front door that she dragged it upstairs: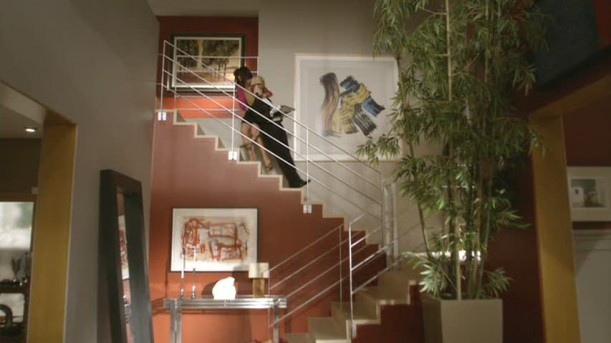 The Kitchen: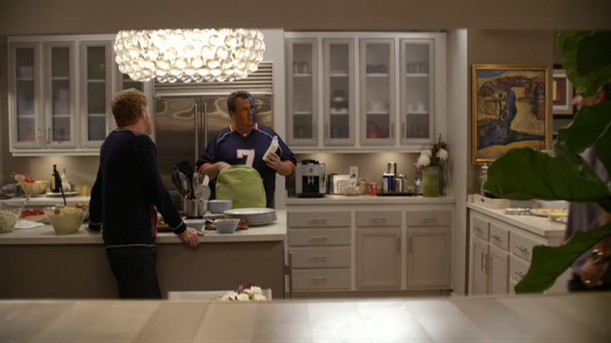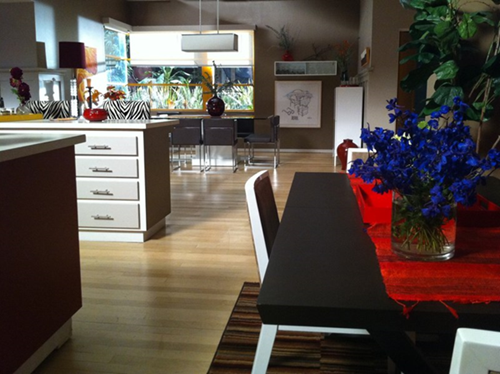 In this scene, Jay complains about all of the pillows Gloria has on the bed. I had to laugh because we definitely have similar disagreements over how many pillows are necessary in our house…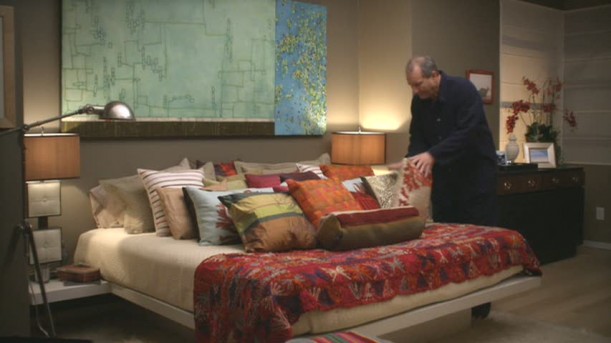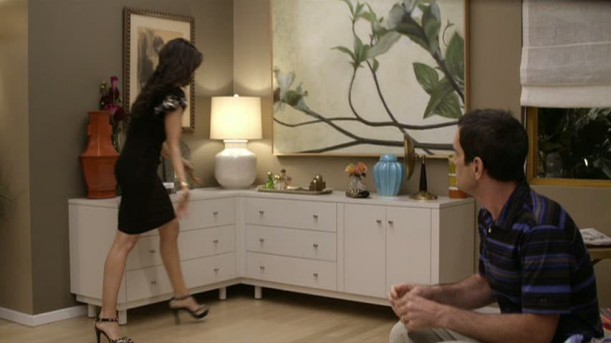 "Modern Family" was the first ABC series to win the Emmy for Outstanding Comedy Series in the 22 years since "The Wonder Years" got the award in 1988.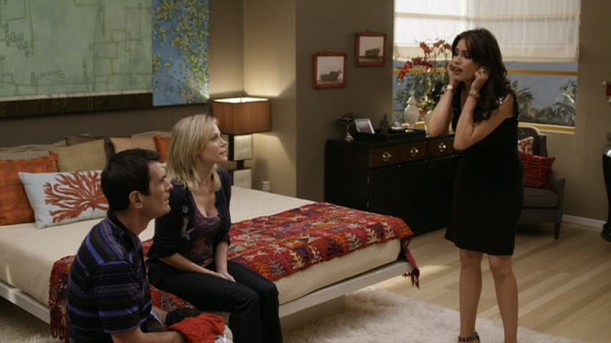 More photos and some source information in a great article in the LA Times. The Dunphy house is on the market and you can see the listing photos with real interiors here!

P.S. Visit Houses Onscreen to see more, including… 

(Visited 765 times, 1 visits today)