Have you been watching this season of "American Idol"? I can't believe I'm saying this, but it has actually gotten pretty good this year. I was skeptical about their choice of judges and the show's ability to move on without Simon Cowell, but they have managed to breathe some new life into the proceedings.
On last night's show, Ryan Seacrest mentioned that the finalists had moved into a mansion together, so of course I had to see if I could track down photos of it. Turns out it's a house in Beverly Hills that was already on another reality show earlier this week–"Million Dollar Listing" on Bravo (love that show).
After slogging through the Beverly Hills real estate listings, I found the mansion on Mulholland Drive. I recognized it right away as a house we had just seen real estate agent Josh Altman take a client to see on "MDL."
They had only gotten halfway through the showing when Josh's client said, "Um, yeah, I don't need to see any more. Let's move on." And while I felt sorry for the crestfallen real estate agent who was giving them the tour, I could totally understand his lack of enthusiasm for the place.
The house has 15,000 square feet that includes 9 bedrooms and 9 baths. It looks way too big for a single family to live in comfortably, but it's probably perfect for the AI kids to crash in for awhile.
The listing price for the house is $12 million, so why do these photos look like they were taken with a disposable camera in 1975?
Let's hope none of the American Idol finalists attempt to actually sit on the benches on this ledge after a bad performance…
According to TMZ, the rent is $100,000 a month. *Cough.*
A lot of the beds in the house are up on raised platforms like this. Not sure I'd want to feel like I was sleeping on a stage.
My favorite thing about the house may be the view:
Do you have an "American Idol" contestant you're rooting for? I think Casey is crazy talented, but so are a lot of the other finalists, so I have no idea who might end up in the top three. Anyone want to make a prediction?
More photos and information about the mansion on TMZ and the listing. Or check out Jennifer Lopez's new digs.
Click Here to See More Famous Houses We've Seen on TV, Including the Mansion from "The Bachelor."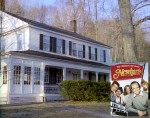 The sitcom Newhart ran on CBS from 1982-1990, fueling my fantasies of moving to Vermont and running a Bed & Breakfast someday while writing books…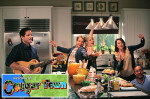 When the Courteney Cox sitcom premiered in 2009, I refused to watch at first because of the terrible title. I assumed it was about older…