In the March issue of Architectural Digest, singer-songwriter Sheryl Crow invites us into her romantic Hollywood Hills estate. There are three houses on her 11-acre property, but she and her young sons Levi and Wyatt live in the 1926 Spanish Colonial hacienda (there's also a 1909 Craftsman bungalow and a 19th century cottage that I'd love to see!).
Crow tells the mag that she "grew up in Missouri, where you don't really see architecture like this."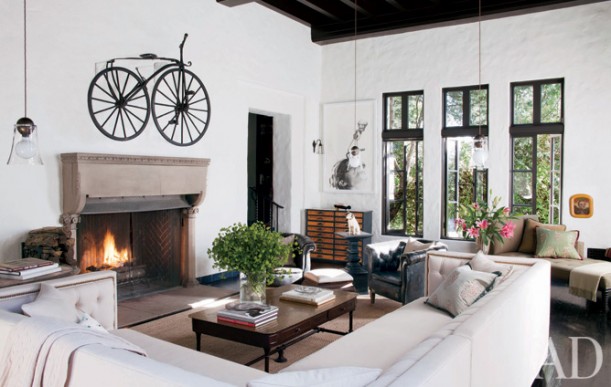 The living room is one of my favorite rooms of her house. There's something about that fireplace, those tall, skinny windows, and the high, beamed ceilings that I really like. It just looks like a comfortable spot to hang out in.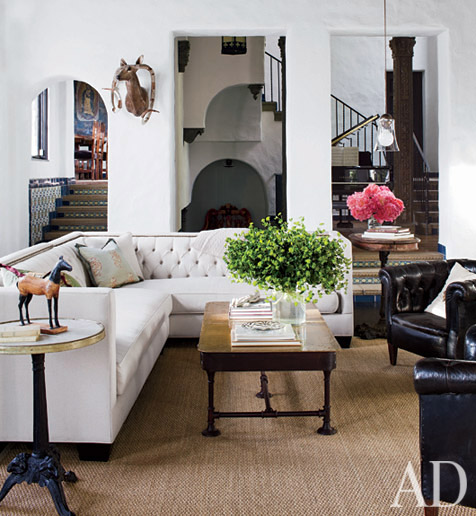 I wish we could see more of the kitchen. I want to see what kind of cabinets she has in there!
I like the simplicity of the black bed in the master bedroom. The animal heads, not so much. I'm starting to think I'm the only person left who hasn't fallen for those things! They're everywhere, aren't they?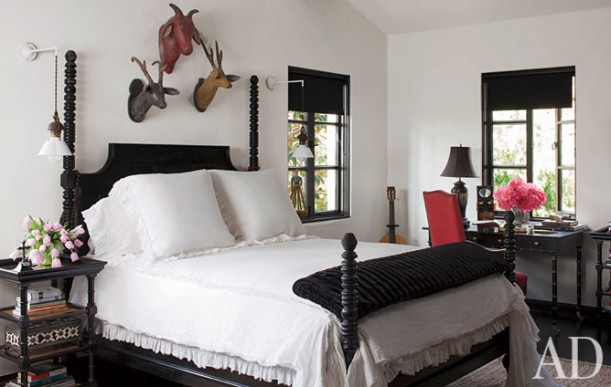 The black tile in the master bath is original to the house, dating back to the 1920s, but it has a modern look to it:
The photos were taken by Jim McHugh for Architectural Digest, and you can see all of them there–including the tepee in the garden that I imagine Levi and Wyatt will have fun playing in!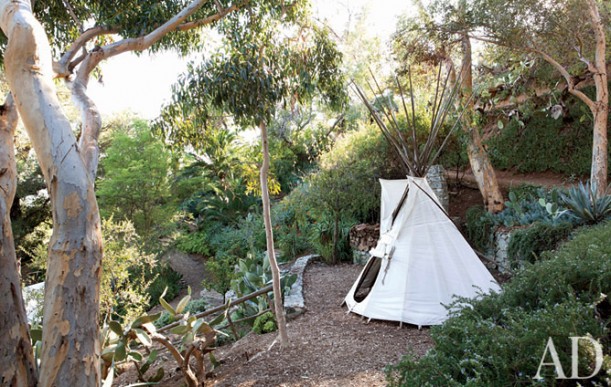 You can also see pics of her Nashville "farmhouse" (term used loosely) that went up for auction recently here: Sheryl Crow's Cross Creek Farm in Tennessee. Which do you like better–the Nashville house or this one?
*UPDATE*
It's on the market. You can see the listing here!
P.S. Visit Celebrity Houses to see more, including…
(Visited 18 times, 1 visits today)