A lot of us were wowed when Veranda magazine featured the home of Dallas designer Shannon Bowers a couple of years ago, so I was excited when I heard that it's on the market. According to the listing, it's a two-story Georgian home that was built in 1930 and transformed by Bowers into a "haven of European elegance."
Once dark and formal, this house is now open, light, and bright, with lots of white and pale pastels. "I'm a purist," she says. "For me, colors found in nature—like robin's egg blue, light sand and the lavender of hydrangeas—are soothing."
The house looks so big that I was surprised to see that it only has 3 bedrooms and 2 baths. The asking price is $1.199 million.
The living room features an antique Louis XV limestone gas fireplace: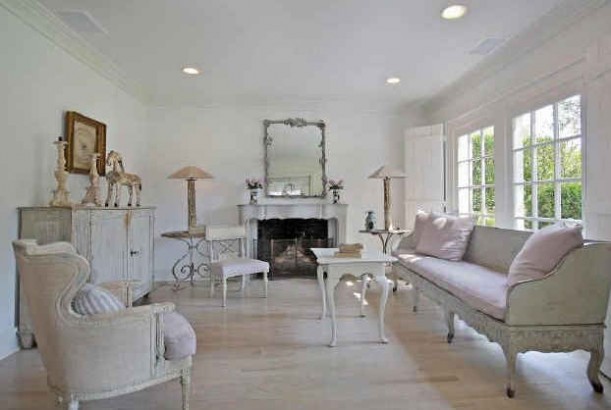 When I see rooms like these, I think, "What a commitment." You would have to be totally dedicated to this style and pale color palette to make it work, wouldn't you? There is ruthless editing involved to keep it looking this beautiful.
Just imagine how one red book could throw everything off–let alone the piles of textbooks my son brings home each day, and all of the toys my daughter plays with, and those stacks of magazines that I keep meaning to read… I might have a little too much "real life" in my house to pull off clean and sophisticated rooms like these, but I love looking at them.
"Antiques give a new house a sense of age," Bowers told House Beautiful. "It's like a garden. You've got to have a few mature plants."
Speaking of antiques, check out the late-18th Century Italian doors with original paint in the dining room–gorgeous!
Did you know she's the daughter of Houston interior designer Pamela Pierce? Bowers says, "A lot of my mom's great style and talent were passed on to me, and I didn't even realize it. As I grew older, my taste and lifestyle evolved. I developed my own sense of design, but I do see her influence in my work."
She told Veranda she was inspired by the soft hues and understated elegance of painted Swedish furniture. Complementing the Swedish pieces are French antiques: "Most of the French furniture is from the Directoire period, so the lines are very clean, and those pieces work well with our Swedish furnishings."
When she moved in, the house had lots of "mauve with dark wood floors, and it had mini-blinds blocking out the sun. I wanted more natural light, airiness and a fresh new look." It would be fun to see the "before" pics!
Believe it or not, Bowers, a mother of two, considers this a family-friendly approach to decorating. All those white slipcovers can be washed, and there are few rugs on the floor to worry about keeping clean. The rest are easy-care, reversible custom cotton dhurries.
Here's a photo of the nursery via Veranda:
"If I have antiques in the living room, I think they should appear in the children's spaces, too," Bowers says. "I would like for my children to develop an appreciation for them just as I have as the daughter of an interior designer. Sometimes the value of a home in our lives is underestimated. Home is where your children's memories are made. I want it to look beautiful, but more important, I believe it should be a warm and comfortable place."
The floors are whitewashed oak. I love the (working) interior shutters in this room: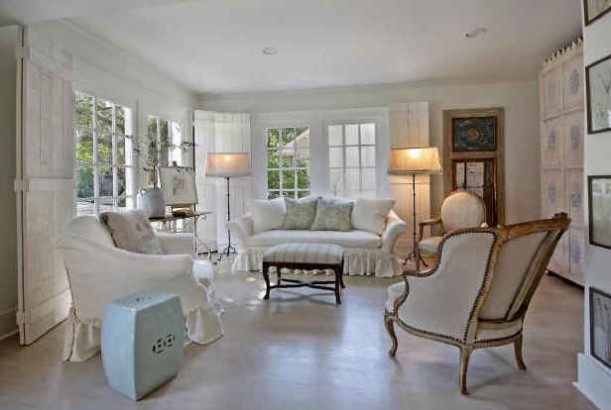 Did I mention that the house comes with a charming guest cottage? I'd say the guests are pretty lucky…
No photos of the kitchen in the listing for some reason, but here's how it looked in Veranda:
For the rest of the photos and information, check the listing by Ellen Terry Realtors. Long-time readers may remember when I featured this house here–if you do, you get a Gold Star for the day! 🙂
P.S. My computer was shut down by a nasty virus today and we're still working to recover it (ugh!). I know one of my readers sent me the link to this listing, but I can't get into my computer to look it up. If it was you, let me know. UPDATE: Thanks to Victoria of MacGregor's Designs for finding this one!

To See More Homes for Sale: Sunday Open House and Real Estate Sampler.

(Visited 38 times, 1 visits today)