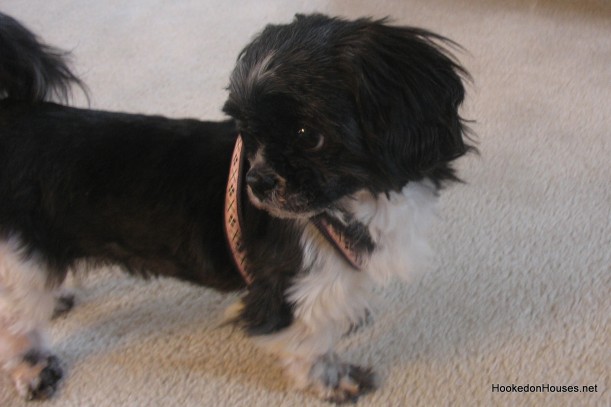 Guess what! We have a dog in the house. Meet Maizie, the 2-year old Shih Tzu we just adopted from a wonderful rescue organization called Louie's Legacy. We had been looking for a dog to adopt for a long time, but none of them seemed right for our family until she came along.
We had to have a small dog because we don't have much of a backyard (it's wooded), and it isn't fenced in. It had to be one with hair instead of fur because Dave and our son Jake have allergies. And it had to be good with younger children for my daughter Lily (others we were interested in didn't care for kids).
Last week we got a call from Debbie, a friend of ours who works with Louie's Legacy, saying she thought she finally found the perfect pup for us. She knew our criteria and had been looking for months for the right one.
It was a 2-year old Shih Tzu who had been dumped at the animal shelter along with her litter of puppies. They were all starved, but she was in the worst shape. Most of the bones in her face were broken, including her jaw. The vet said they had been like that for weeks. The shelter would have put them all down, but the rescue organization took them in and nursed them back to health.
They found homes for the puppies, but Maizie had to go through several surgeries, including a recent one that wired her jaw back together. She's still recovering from that, but you would never know it to look at her. She was on pain meds until a few days ago and is still on antibiotics. Makes me want to cry just thinking about everything she's been through.
Despite it all, she's one of the sweetest, happiest little dogs I've ever seen. Considering everything she has survived and bounced back from, we think she's pretty amazing. So we named her Maizie (The Amazing Maizie).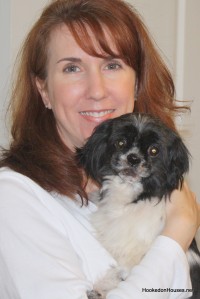 Now we're working on a few things like walking on a leash (something she'd never done before!) and preventing house-training accidents (we've had a few messes to clean up), but she's a smart pup and learning fast. One of the biggest problems is grooming. We can't bathe her until she heals, and she runs whenever I bring out the brush!
She has two months before the vet will take the wires out of her jaw, so she's on a special (watery) diet and needs some extra TLC, but so far she's doing great.
I know Maizie has nothing to do with houses, really, but I just had to share with you the excitement at our house right now! 🙂
To See More Posts About My Life: Family.
(Visited 1 times, 1 visits today)