Designer Jonathan Adler's Greenwich Village duplex was featured on the Wall Street Journal recently and shows that he hasn't lost his love of happy colors, patterns, and animal figurines. In the WSJ interview he explained his design philosophy by saying, "When you are on your deathbed about to snuff it, you want to look back and remember your persimmon sofa, not beige on beige."
Well, when you put it that way! Then again, I hope I'm not thinking about sofas at all on my deathbed… But I get his point.
I think this staircase would give me a migraine if I had to go up and down it too many times a day. But I'm not a big "pattern" kind of girl. Or a shiny wallpaper kind of girl.
He put a red and black paisley ping-pong table in his living room. My kids would love this! Adler says, "I think formal living rooms are a thing of the past." I don't think many New Yorkers would have this kind of luxury, but his duplex is a roomy 2,500 square feet.
In his book My Prescription for Anti-Depressive Living, Adler offered his list of design rules, including "tchotchkes are life enhancing" and "colors can't clash."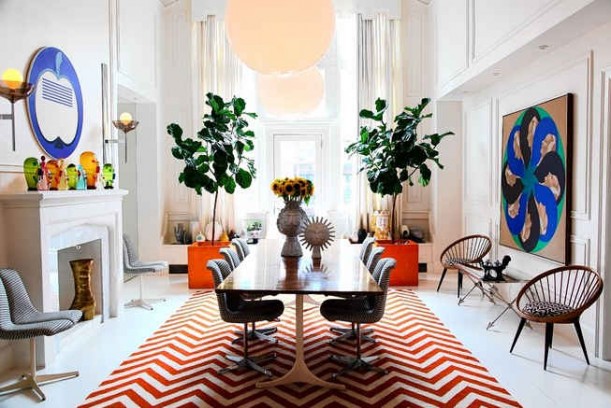 Are you an Adler fan? Do his designs make you happy? You can read the article and see the slideshow of Adler's place at WSJ. Photos by Jessica Antola.
Click Here to See More Designers' Houses, including…
(Visited 1 times, 1 visits today)