Over the years I've featured a lot of celebrity houses. Surprisingly (to me, at least), one of the most popular ones has been the post about Tori Spelling and Dean McDermott's house in Encino.
When I posted those photos, they had just moved in and Tori hadn't started redecorating it yet. If you watch their reality show "Home Sweet Hollywood," then you know that she loves to decorate and does most of it herself. A lot of us were impressed by the makeover she gave her family room last season. And a lot of you asked me to post photos of it.
People magazine recently featured a series of photos of stars in their favorite rooms, and it includes this one of Tori in her family room (above). She tells the mag, "It's important for me to live in a beautiful space, but I also want my kids to feel they can play around." She describes the room as "Hollywood Regency meets eclectic antique tied together by cozy family style."
The family room makeover was a surprise for her husband Dean in the "Eat, Drink & Remarry" episode this season. I searched everywhere for photos of the makeover (dear Tori, please post some for us!) and when that failed, I took some screenshots from the episode itself (which is why they're a little fuzzy).
Family Room Before:
Family Room After:
She took what was really a pretty dark, masculine, and serious-looking room and made it lighter, brighter, and more family-friendly. Another before (from this post about her house):
And the fireplace wall now:
They opened up the wall that used to have the built-in entertainment center and replaced it with French doors. It's amazing what a difference all of the windows made to this room (this is a terrible photo–you can get a better idea of the window wall in the photo at the top of the post):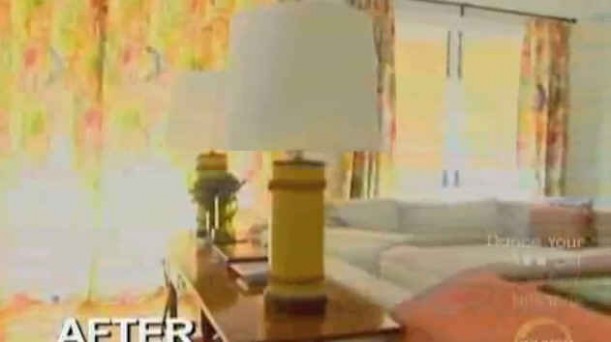 Liam shows his dad "Your new chair!"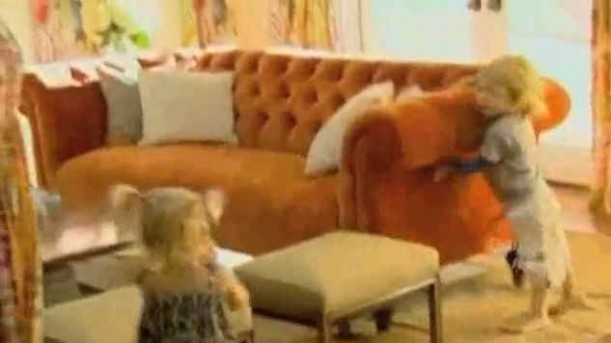 Here's the wall across from the windows: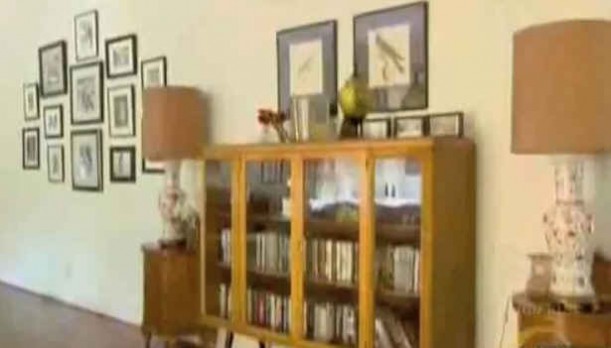 Oh, and their new baby goat was wandering around the family room, too, and apparently feeling right at home:
Tori says, "I truly feel like the family room is the heart of the house and it's where we spend all our time together."
Here's the part of the episode where the family room was revealed if you want to see more (it starts at the 0:44 mark):
What do you think of their new family room? Do you like Tori's style?

If you missed it…
Jeff Lewis from the Bravo TV series "Flipping Out" was chosen to design House Beautiful's Kitchen of the Year 2010, and if you've been watching…
Now that Phil Spector has been found guilty of murdering Lana Clarkson in his "Pyrenees Castle" in Alhambra, California, he is reportedly prepared to sell…