When we moved here 7 years ago, I claimed this little spare bedroom as my home office. I work as a freelance writer and editor and spend a lot of time in this space. Despite the sad state of affairs in my study at the time, my daughter Lily looked pretty happy to be posing in it! I had a broken-down chair, an ancient computer, builder-white walls, and blah, blah, blah. Pretty pitiful.
It wasn't that way for long, though. My husband Dave announced that for my birthday that year, he was going to help me redecorate it. And boy, did he. Every night for two weeks he came home from his office and went to work on mine. He painted. He put down hardwood floors. He added crown molding.
It was the best. Birthday. EVER. Here's how it looks today.
I spend so many hours in here that I have to be comfortable. No chic and stylish desk chair for me–I need something that tilts, swivels, and has back support! And my poor silk curtains are just a rumpled wreck. One day I'll get around to replacing them with something more practical…
One of my kids is usually seated in this chair next to my desk, watching me work. And asking, "What are you doing now? What's that post about? You should write one about _____. They'll like that!"
A portrait of my childhood home sits on my desk. Wonder Woman's peeking out of the pencils: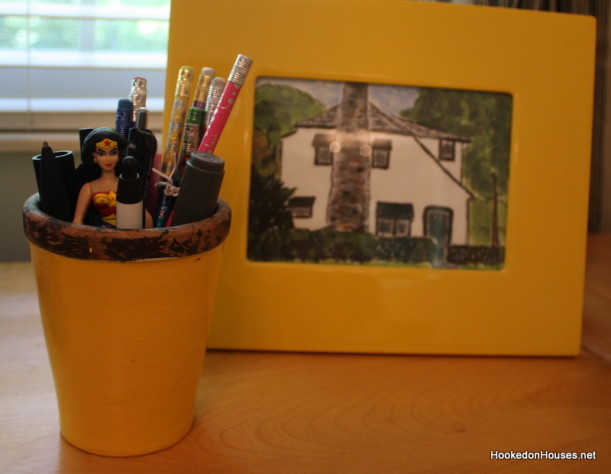 The paint color is "Seaside EB7-4"by Eddie Bauer Home.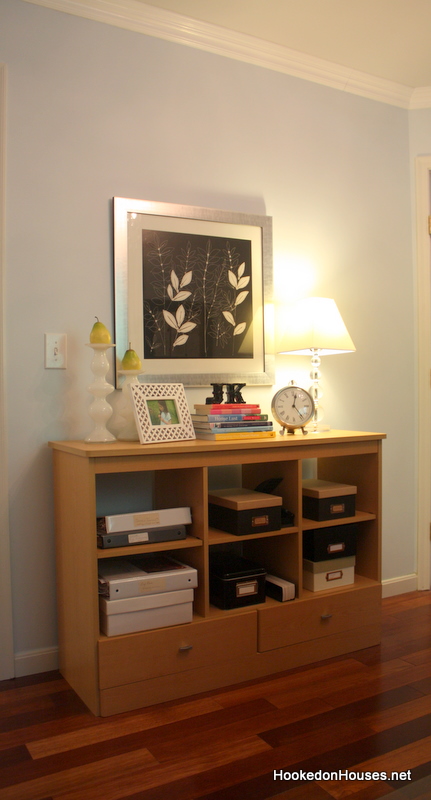 That console table behind my desk keeps my projects organized. I didn't want to buy any new furniture when we redecorated the room, so we choose a hardwood floor that had a range of wood tones in it to try to pull everything together.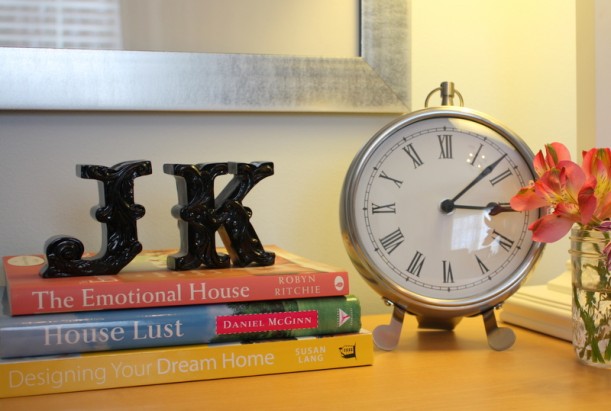 One of my favorite books is House Lust by Daniel McGinn (above). It inspired me to start this blog 2 years ago.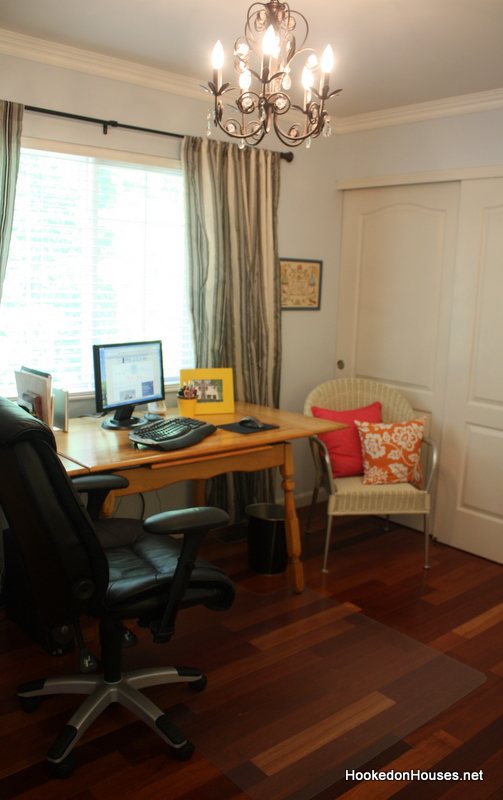 My desk is an old kitchen table I grew up with. My parents had "antiqued" it a dark blue when I was a kid. When I got my first apartment and had no money for furniture, I rescued it from their basement and stripped it back down to the bare wood. I always thought I'd get a "real desk" someday, but I'm kind of attached to this one now. 🙂
(Visited 1 times, 1 visits today)