The reality series 19 Kids & Counting follows the Duggar family, which has become famous for having 19 kids (the show was originally called "17 Kids & Counting"). They've had two more babies since this photo was taken in 2007 and, as Michelle Duggar says in the show's opening, "Yes, I delivered them all myself."
The Great Room has 2,000 square feet and features an open family room, kitchen, and dining area:
The Kitchen:
I keep staring at this photo, trying to figure out how that little girl 1) got up there on the counter, and 2) isn't going to fall. Must be a stool down there we can't see?
The dining room table seats 20 and has a beverage center handy (my kids would love if we added one of these to our dining room!):
The large laundry room has four washers and four dryers. Nearby is a giant closet where all of the clothes for the family are stored. Pretty smart idea considering the amount of laundry they must do. The kids have to go to the main closet to get their clothes each day.
Upstairs:
The Boys' Bedroom with 10 beds:
The Girls' Bedroom:
The Playroom:
The family is on the cover of People magazine, in which they say 19 might not be enough, and they're open to Baby #20:
Michelle and Jim Bob Duggar have always been open about their willingness to have children. But when the devout Baptists and stars of TLC's 19 Kids and Counting faced the catastrophic aftereffects of their 19th child's premature birth, many assumed they might be done.
But now the couple – who only recently brought baby Josie home after being hospitalized for six months as she recovered from a perforated bowel and rare digestive problems – say they are ready to consider a 20th child.
The overhead view as seen on Bing Maps shows how sprawling their property really is: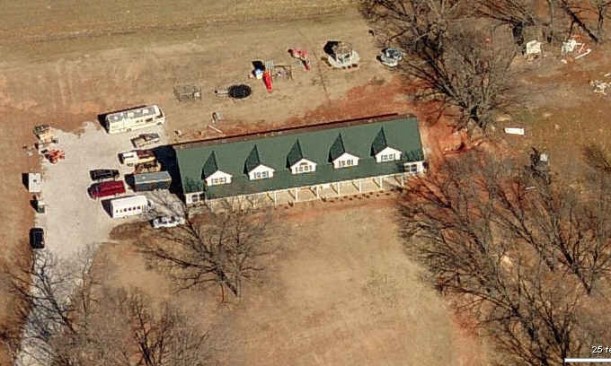 P.S. Another house seen on Reality TV:
Tori & Dean's Summer Cottage
Software entrepreneur Larry Dean and his wife Lynda built their dream house in the early '90s in Georgia. They divorced soon after and their sprawling,…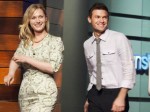 Did you watch the season finale of HGTV's Design Star? It was down to these two: Emily and Michael. They each had to design an…