When I first saw this kitchen designed by Wendi Young (via Desire to Inspire), it stopped me in my tracks. It sure did look familiar. Then it struck me–it was the "It's Complicated" kitchen! Right?
So I compared photos of the two side by side and realized they weren't exactly the same, but it looks like the movie kitchen could have been inspired by Young's design, or the other way around. Here's the kitchen from the movie: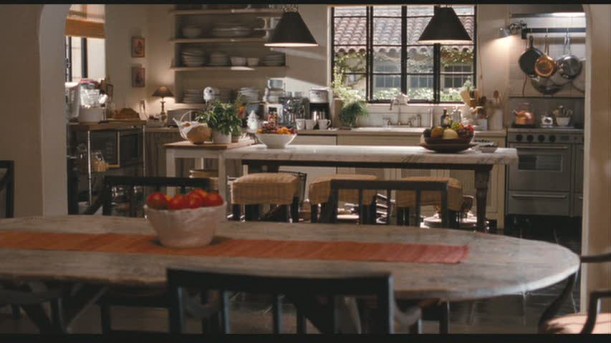 They look close enough to be sisters, anyway. They share the same basic layout (although the fridge is on opposite sides of the room). The beamed ceilings. The open shelving to the left of the sink. Similar lighting. Even the flooring looks similar based on the small glimpse we get of it in the movie. I love it!
According to Traditional Home, the overall design direction for Meryl Streep's kitchen in the movie came directly from Nancy Meyers, "who wanted a 'Belgian look that is reflected in the house's furnishings and a quiet palette with natural linen.'"
The set designer for the film was Beth Rubino, who also worked on Something's Gotta Give (pics of that house here). To see the rest of the house that goes with this kitchen, visit Wendi Young Design.
If you could have a kitchen inspired by one you've seen in a movie or TV show, what would it be? Hard for me to choose just one, but Nora's kitchen would be at the top of my list.
On Movie Mondays I feature rooms from our favorite films. To see my post about Meryl Streep's house in "It's Complicated," click here.
The 2001 romantic comedy Kate & Leopold starred Meg Ryan and Hugh Jackman in a time-travel love story that I thought was a lot of…
Tracy Porter and her husband John were newlyweds when they started their company out of an unheated chicken coop behind their house in Wisconsin. That…