My daughter Lily loves to shop with me. Today we found a few things online she wanted me to show you, "Since you won't let me have my own blog yet, Mom." Here are 5  of her faves.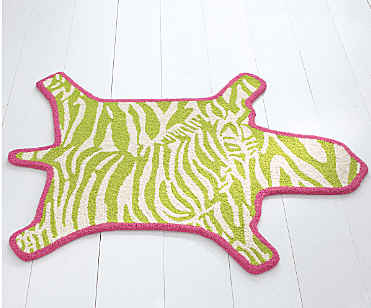 #1. Lilly Pulitzer's "Catching Z's" Rug: Garnet Hill.
#2. Fresh Lime & Pink Flamingo Swing: Outer Banks Trading Group.
#3. Pawleys Painted Island Buffet: Russell & Mackenna.

#4. Pretty Knobs (Lily especially likes the green one): Anthropologie.

#5. "Treading on a Line" Painting (she loves birds!): My Sparrow.
I love all the bright, summery colors. She wants to know what you think. Do you have a favorite?
She also wants to know, "How old do I have to be before you'll let me have my own blog, Mom? I'm going to be a blogger  like you someday. It looks really easy. You can do it in your pajamas."
P.S. In the spirit of full disclosure, this post is not a paid advertisement, and I won't profit from the sale of any of these items. However, My Sparrow and Outer Banks are sponsors of my blog, so I hope you'll visit them! 🙂

(Visited 1 times, 1 visits today)
Are you hooked on houses? More to tour: