The 2001 romantic comedy Kate & Leopold starred Meg Ryan and Hugh Jackman in a time-travel love story that I thought was a lot of fun, even if it wasn't very believable. Kate's cozy New York City apartment was a set built on a soundstage. They built exteriors of other buildings outside the windows so it would look "real" when they were outside on the fire escape.
Breckin Meyer played her brother Charlie. Liev Schrieber was Stuart, Kate's ex and Leopold's great-great grandson who went back in time and found him.
I love these bookshelves in Kate's apartment–and those tall windows!
They cast Australian Hugh Jackman because they wanted "someone fresh" for the role. In 2001, he was a fairly new face to American audiences, although he had appeared in X-Men as Wolverine the year before. Jackman was nominated for a Golden Globe for this movie.
Leopold takes Charlie's advice and waits to turn the dishwasher on until Kate is there to see him do it. Smart man!
In the Director's Cut, Stuart turns out to be Leopold's great-great grandson. However, the studio had concerns about the fact that this made Meg Ryan both Stuart's ex-girlfriend and his great-great grandmother. The ick-factor led them to edit out all mentions of Stuart's family connection to Leopold.
Bathroom: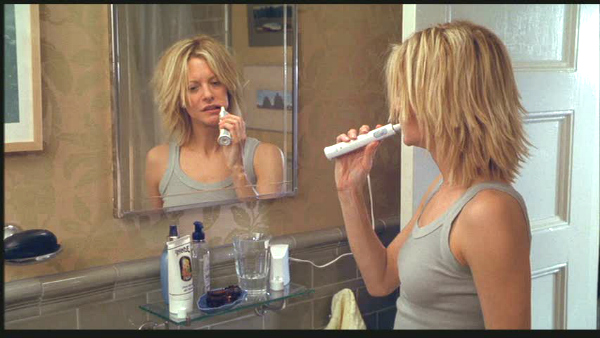 Kate's Bedroom:
Kitchen:
Sting was nominated for an Oscar for the song "Until" that plays over the credits, and he won a Golden Globe for it.
Kate & Leopold was written by James Mangold, who went on to write and direct Walk the Line in 2005.
He says that the 1800s version of New York City in the movie was very much romanticized and not intended to be historically accurate: "It was a fantasy world. What I was focused on was the sense of optimism and joy. A place where there was time to think and time to dream. There was a kind of grandeur. It's a Merchant-Ivory kind of fantasy."
I thought it was a fun little movie if you didn't think about the time-travel details too much!
P.S. Visit Houses Onscreen to see more, including…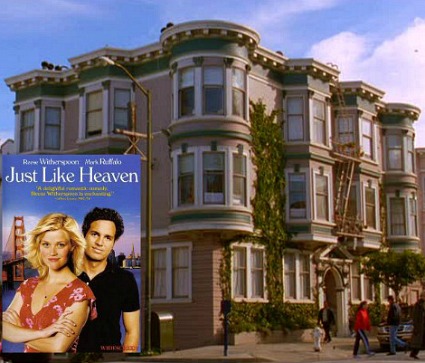 Reese Witherspoon's Apartment in Just Like Heaven
(Visited 16 times, 2 visits today)