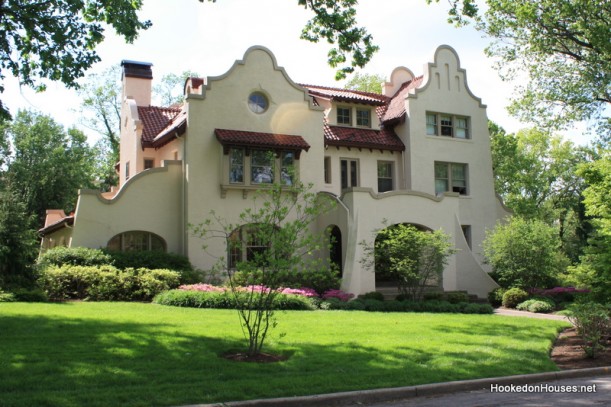 "There's no such thing as pure individual style in a home." -Alexandra Stoddard

I've been reading the book Daring to Be Yourself and this quote jumped out at me. I guess I always imagined that attaining a kind of "pure individual style" in your home was like the Holy Grail of decorating. Something we were all striving for.
But designer and author Alexandra Stoddard says that it's not even possible.
For example, you may love country-farmhouse decor, but if your house looks like the one above, then it won't really work. Maybe you're craving spare, white-on-white rooms, but your husband likes the hunting lodge look. Or you dream about filling your home with fine antiques but can barely afford IKEA.
Even if you have determined what your individual style is (and a lot of us still struggle with that!), it's not always easy to express it. Few of us live in magazine-worthy rooms or model homes.
Stefanie, who writes a popular blog about renovating a Brooklyn Limestone, said something similar in a recent interview:
"I see a lot of advice about buying what you love and creating a home that is a perfect reflection of the inner you. Personally, I don't think that's entirely possible. Sometimes practicality has to win over the idealized version of perfection. And sometimes the imperfections are the very things you learn to love."
Some houses I've seen in magazines and on blogs certainly seem to have achieved a sense of pure individual style. Rooms that–as far as I can tell–perfectly reflect the owner's sensibilities and personality.
But my home doesn't come close. Some rooms are stuck with decor I haven't liked since 2002. Others were done to please my husband or kids. I love beach cottage style, but my house is not a cottage, and it's a long way from the beach, so that wouldn't work here. Compromises are made every day. So I can definitely see their point.
Do you think it is possible to create a home that perfectly reflects your individual style? Or has decorating been a series of compromises and "making do" for you, too? (Photos from top: mine, BHG, & Country Living.)
Are you tired of granite countertops yet? Now that just about every new home in America has them, is 2010 the year when we start…
Hope my readers in the States are having a great holiday weekend. Just please remember to decorate responsibly. (When I posted this on my Facebook…
Are you hooked on houses? More to tour: