Last year the rustic Italian-style mansion in Agoura Hills, California, where the popular "Bachelor" and "Bachelorette" reality shows are filmed, was on the market for $6.75 million. The house, known as Villa De La Vina, has an official website with photos that show what it looks like when it's not all dolled up for TV. Take a look…

The Bachelor Mansion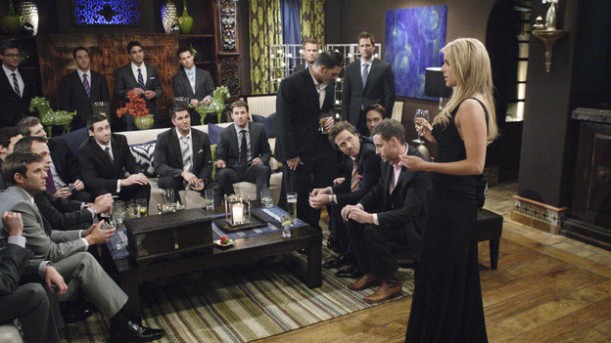 They redecorate the mansion for every season, so it always looks a little different. Here's how that living room looks when "The Bachelor" isn't filming there:
The Pool:
The cabana, where many a romantic scene has taken place:
The Staircase Many Girls Have Run Up, Crying:
The Kitchen:

The Family Room:

The Dining Room:
Remember Jesse Csincsak, the man Deanna Pappas chose during the 2008 season of "The Bachelorette," — only to dump him a few months later?
Jesse described the mansion:
"The Mansion is more of a compound than a mansion. It only has 4 bedrooms upstairs. Downstairs are the rose ceremony room, her room with all the guys' photos in it and the kitchen and the living room. The rest of the house that you never see is filled with production equipment.
"The Compound has 7 ft concrete walls all around it with security guards walking the perimeter so there is no way in or out. The Mansion has microphones throughout so they can always hear what's going on and when something good happens they send one of their 24 hr a day camera crews to investigate…"
In this aerial shot you can see those walls surrounding the perimeter that he mentions:
Are you a "Bachelor" fan? You can see more photos of the house at the Villa De La Vina website.

P.S. Visit Houses Onscreen to see more, including…
(Visited 2 times, 1 visits today)