Do you ever get tired of all the picture-perfect rooms on blogs and in magazines? Do you ever feel like your house just doesn't stack up? I do! But I have a solution–a blog party I'm going to call Freaky House-Photos Friday. There's nothing like looking at a few not-so-great spaces to make you feel instantly better about yours!
I know I'm not the only one who gets a kick out of odd or ugly rooms because my Bad MLS Photos are some of my most popular posts. You know you love 'em. You may leave comments like, "My eyes are burning!" and "I just lost my appetite for lunch!" but you keep coming back for more, don't you?
If you have a blog and want to play along, here are a few ideas for things you could show us:
#1: Something you found in the real estate listings.
#2: A room from an old magazine or decorating book.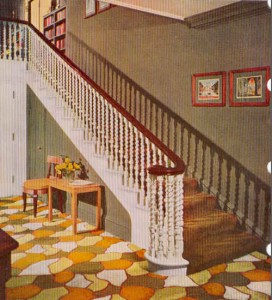 #3: A room from a magazine that's supposed to be chic, but you're not so sure.

#4: A room in your house that you want to change. (Ask for ideas!)

#5: A room that used to look freaky before you fixed it up. (Show us the after!)

Mark your calendars: Friday, April 2, we'll take a break from all the prettiness to ugly-up our blogs for one day, have a few laughs, and make everyone feel better about their own homes. Who's with me?
(Photos via an old BHG Decorating book, Domino, and the real estate listings.)
To see more design-challenged rooms, visit my Bad MLS Photos page.
(Visited 2 times, 1 visits today)