For years people told me, "You should sell real estate." If you're into houses like I am, then I bet you've heard the same thing. But after spending the weekend watching a marathon of "House Hunters" episodes on HGTV, I concluded that I should steer clear of that profession. I'd make a lousy real estate agent. Here are 5 reasons why:
1. Some clients would drive me crazy, and I wouldn't be good at hiding it.

I'm sure you've seen them on "House Hunters," dismissing perfectly good houses because one room is painted a color they don't like, or the carpet is a little worn in the family room. In one episode, a couple wanted to see houses with  two-story family rooms but then kept complaining that the upstairs bedrooms are too small. It would be hard not to roll my eyes at them if they said this to me in person. Let's just say I'd be biting my tongue. A lot.
2. I couldn't handle all the phone time.
Have you noticed how much time the agents spend on the phone on those shows? They're either calling other agents or calling their clients in every other scene. As I have admitted to you before, I hate talking on the phone. Hate. It. If you call me, I will probably reply via e-mail. Or I might drive across town and knock on your door to answer in person. Anything to avoid the phone. So, yeah, real estate is not going to work for me.
3. I wouldn't like to see my face blown up on a billboard.
Just think how giant my pores would look! Scary thought. (Photo via the hilarious Bad Billboard Project.)
4. I couldn't sell a boulder in the basement.
Successful agents have a gift for glossing over defects. When we were house hunting, ours never saw a problem that couldn't be fixed. There was only one bedroom and we needed four? Build a second-story addition! We didn't like the view of the cell phone tower behind the house? Board up the windows!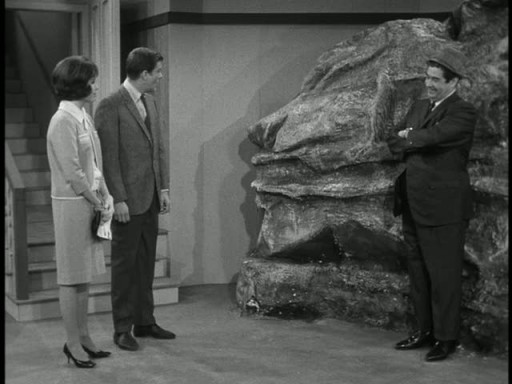 One of my favorite "Dick Van Dyke Show" episodes had Rob and Laura finding the house of their dreams, but there was one little problem: a boulder in the basement. Their agent cheerfully suggests that they decorate the rock and make it a focal point.
Good agents can do this with a straight face and convince their clients that nothing is a big deal to fix. They can soothe a home buyer's fears. I could not. I'd be like, "Honey, you don't want to live with a rock. Let's keep looking!" And then we'd spend months (possibly years) looking at every house in the tri-state area until I found one that I thought was good enough for them. (I would also be broke.)
5. Every time a great house came on the market, I'd want to buy it myself.
We actually had an agent who sold more real estate to herself than anyone else. A few years ago she wrote us and said she had to quit the business–it was getting too expensive for her! (You can see inside that great Craftsman bungalow here.)
So now it's your turn, house lovers. Tell me the reasons why you would or wouldn't make a good real estate agent! If you already are one, tell us what you love about the job, or the things about it that are tough for you. I'd love to know!
Ever wonder what happened to Suzanne Whang, the long-time host of "House Hunters," who has been replaced by a bodiless narrator? Here's the answer.

(Visited 7 times, 1 visits today)